2022 State of Websites Report
Top web trends and forecasts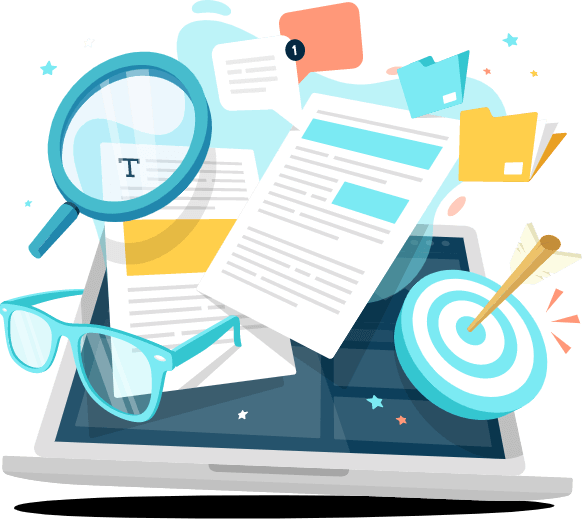 The past two years have changed the way many organizations view their websites.
The increase in digital communications as well as more reliance on digital channels in general has placed even greater demand on businesses and organizations to ensure their online presence is fully accessible and optimized. And for good reason, considering that it only takes a person a fraction of a second to decide whether they like a website or not. In today's digital landscape, every organization needs a great web presence, but with the emphasis on digital channels ushered in by the pandemic, that requirement has become even more apparent.
To gain insight into the current state of websites and what organizations in both the public and private sector will be focusing on this year, we conducted a survey. We heard from leaders and web specialists from organizations around the world to understand what they plan to work on to enhance their sites in 2022 and how the past year has influenced their priorities.
In Q4 of 2021, we reached out to digital professionals with a survey covering topics including website priorities for 2022:
Team structure

Website maintenance activities

Web accessibility

Website tools

Website compliance
Over 160 web, marketing, and communications leaders and specialists from around the world responded coming from various industries in both the public and private sectors.
Of those surveyed, the majority (87%) reported being responsible for their organization's website. The respondents typically fell into one of the following categories:
Executive roles: 12%
Marketing, communications, and content roles: 23%
Web roles: 29%
Other roles (including analysts, accessibility specialists, and consultants): 36%
The complexity of optimizing a website often comes down to multiple factors, with one clear standout being resources. When polled, the majority of respondents stated that there are between two and five people working on their website. With smaller teams, coordination becomes easier, but given limited time to focus on optimization and audits less, making improvements or fixing errors can often be less of a priority.
In contrast, about a fifth (21%) of respondents shared that their organization has 20 or more people working on the website. Larger organizations with more complex websites require coordination between teammates to maintain efficiency and align on task status and general maintenance. Independent of the size of an organization, the average number of paid tools used is around three tools, with the average spend coming in between $10,000 to $20,000 USD (or regional equivalent).
Top Website Trends and Priorities for 2022
The last few years have seen website development shift from project to product-based, to better serve the needs of an organization and its audience. Unlike a project with a defined lifecycle, it's in a constant state of evolution and is subject to continuous improvements. The rise of new technologies that boost discoverability and engagement have played a large role in this, as do increasing demands from users expecting better experiences. To that end, there are multiple areas survey respondents stated they'd like to optimize on their websites to enhance their digital presence this year. Findings from our survey revealed four major trends that stand out above the rest.
Trend #1 - Improving the user experience
Although enhancing the user experience (UX) on a website is often touted as being very important, it doesn't always get prioritized when compared to other goals, such as number of visitors. Yet, web specialists are shifting their focus from sheer numbers to gaining a greater understanding of how their audience interacts with their site. In 2022, organizations will put more focus and effort into making their users have a better experience with each visit to enhance satisfaction and meet increasingly higher expectations from online users.
While a huge part of the user experience, Accessibility is getting more and more focus not only in the media, but by our survey respondents as well. An accessible website is no longer a nice to have but rather a foundational website strategy element crucial in making sure that all user needs are being met and that the site lives up to the latest Web Content Accessibility Guidelines (WCAG). It's estimated that the cost of accessibility non-compliance is about three times higher than the cost of complying1 but ultimately accessibility is the right thing to do, and should not be overlooked in 2022.
Trend #3 - Doing a redesign
With greater focus on UX, web design can't go overlooked. In fact, most website users form their opinion of a site in about 0.05 seconds2, leaving little room for a bad first impression. If a site is experiencing a very high bounce rate, user interface (UI) design is often one of the first elements up for review. Following the upcoming trends in web design as well as a need for sites that meet not only aesthetic and usability goals, but also compliance standards will create demands on web developers and designers to become more versed in these areas.
Trend #4 - Growing traffic
Gaining greater exposure of your organizations' message to a larger audience tends to top the KPIs of most web professionals. As of January 2022, there are over 1.9 billion websites online3. Of those, less than 25% of them are active. Yet, that is still a massive 350 million active sites catering to the needs of over 4.6 billion internet users worldwide4. With respondents planning to drive more of those visitors to their sites in 2022, many of the most widely used tactics to grow traffic will continue to be implemented, and some newer ways will also begin to appear.
Nearly half (49%) of survey respondents cited improving the user experience (UX) as their top priority in 2022.
Which isn't surprising given the statistics on user engagement. Research indicates that 88% of website visitors5 will leave a website due to a bad user experience.
Though UX has been touted as a trend for 2022, organizations that incorporate UX thinking into their designs, tend to deliver better customer service, which is quickly becoming a major competitive metric. In fact, 81% of businesses expect to be competing mainly on the basis of customer experience, or CX in the near future6.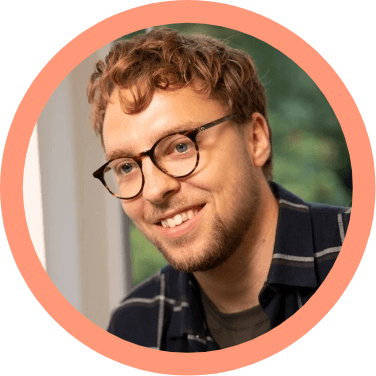 Mads Aage Kæregaard Jørgensen
UX Lead at Adapt
"Personally, I do not regard improving the user experience (UX) of websites as a trend, but rather as a continuous goal that all companies should work towards. Both because it will affect their bottom-line as well as increase the pleasure of using their product or website.
As to trends within the UX field, there are many I believe will receive attention in 2022. However, I would like to highlight that companies should have an increased focus on making accessibility practices a standardised focus area. This will accommodate a larger user base, while existing users will reap the benefits of the positive spill-over effect.
Second, a trend that definitely will receive attention in 2022 is working with sustainability and how companies can use UX methods to promote and leverage sustainability aspects of both new- and existing business areas."
Expanding on the focus on UX in 2022, respondents also intend to enhance the transactional use of their sites. Approximately 8% of those surveyed plan on moving more offline services online to make it easier for their users or customers to access the services they need online. Prior to 2022, many organizations saw their websites as an informational portal with minimal interactions The pandemic brought about an increased demand for remote access to a plethora of services, which means site development over the coming years will likely require features and usability which used to be deemed nice-to-have rather than must-haves and ubiquitous.
Hand-in-hand with more usability will be a greater focus on offering self-service options for user interacting with sites, in order to enable access to support (chatbots) or user logins (personalization and access to forums or additional content).
Site performance is at the top of the list for optimization for many web developers. In fact, Google is prioritizing the user experience with its recent Page Experience update and more changes are in the works over the coming months. So, if your site is sending signals to Google's algorithm that indicate the experience on your site is potentially less-than-stellar, the ranking of your site could be affected and end up ranking lower. Not only will this lead to reducing organic traffic, but it will likely impact other metrics as well.
Under the scope of improving UX, collectively 14% of respondents stated that optimizing for better conversion or making their site more transactional in nature is one of the areas they'll focus on in 2022. When asked how much time they currently spend on conversion optimization, 20% of respondents reported currently spending between just 1-2 hours per month on conversion optimization, and nearly a quarter (24%) spend less than an hour per month.
Time spent on conversion optimization per month
Slow site speed erodes how trustworthy it appears and makes it more likely for a user to abandon a website.
In fact, pages that load in under a second convert around 2.5 times higher than pages taking five seconds or more7.
It's no surprise then that site speed is a top factor that impacts SEO and a site's ranking8. Yet, according to our survey, nearly half (47%) of respondents spend two hours or less each month working on their website's technical performance.
Time spent on technical site performance per month
A similar amount of time gets spent on analyzing site behavior, with 23% of respondents spending less than an hour reviewing how users interact with their website (using tools such as Heatmaps to do so). In fact, Heatmaps actually provide specific, actionable insights into how to enhance the user experience by highlighting areas that can be optimized from either a usability or design perspective.
Time spent analyzing site behavior per month
Aside from analyzing user behaviour on site, reviewing content quality takes up a fair amount of time for our respondents. Approximately one quarter of respondents reported spending more than six hours on quality assurance per month. This includes removing or updating broken links on websites, fixing typos, and reviewing content.
Time spent on website quality assurance per month
Responsive mobile website design is slated to continue its rise in 2022 and beyond. In fact, though not all organizations need an app, a responsive mobile site is a must. Designing and developing with the mobile first approach in mind allows organizations to:
Prioritize content
Improve search engine rankings
Increase readability & accessibility
Increase customer reach
With mobile taking up such a large portion of the internet's traffic, there's no doubt that opting for a mobile first approach will ensure that everyone's browsing needs are met.
Last year, a staggering 97% of home pages had accessibility errors, the majority of which (86%) were due to low contrast text9. Not only does this type of error that is easily remedied cause non-compliance issues, it violates the basic tenets of good design. Imagine visiting a website and seeing the following: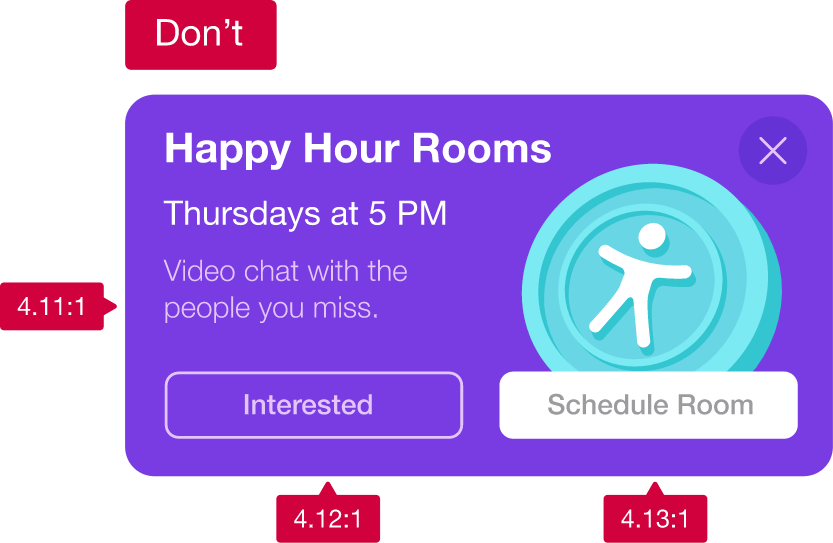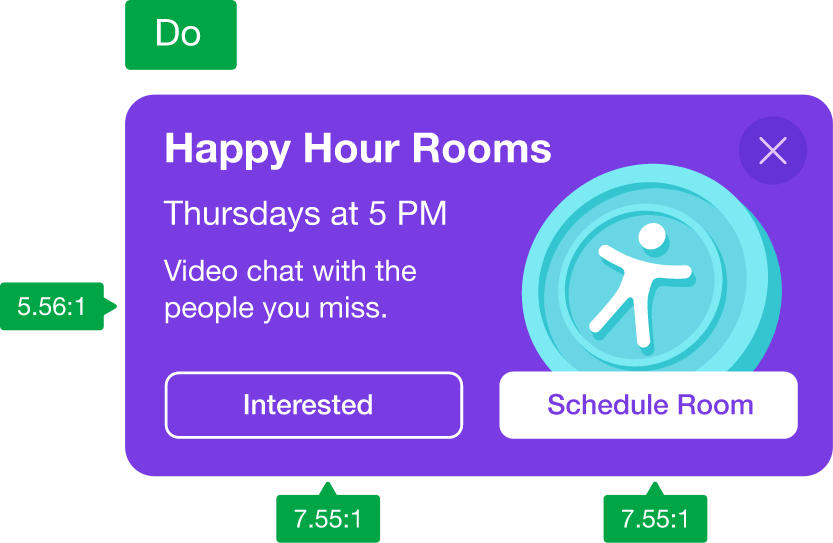 Now, imagine instead being greeted with a site that adheres to proper contrast ratios. Even if you aren't among the roughly 300 million people worldwide10 with some degree of color vision deficiency, the low contrast can affect readability and lead to unnecessary frustrations for all users. Sufficient contrast between text and backgrounds, especially high contrast color combinations, improves readability. With the advent of Dark Mode across web and mobile, this becomes even more apparent.
Check your website for potential accessibility issues with our free Color Contrast Checker.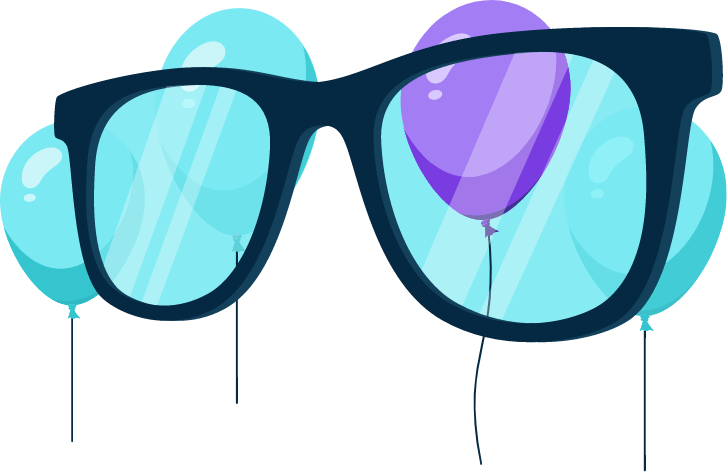 But contrast alone isn't enough to make a design accessible. A few UI elements you want to check for accessibility every time you add them to your website are:
Buttons
Forms
Titles
Paragraphs
By respecting hierarchy and layout, users should be able to interact with these elements and understand the intended navigation of each. Additionally, font weight can be increased in order to avoid poor contrast on a site. Universal design can be achieved by respecting a few key principles, meaning inaccessible design will likely become a thing of the past over the next few years as web professionals become more versed in these areas.
Accessibility at the foundation
As stated above, this year will see an increase in multimedia and animation. Certain considerations will need to be made during the redesign process, as this content can often cause web accessibility issues. Considering that almost 70% of survey respondents rated web accessibility as highly important (5 out of 5), it's important that as these design trends make their way into the mainstream, WCAG best practices are upheld, and sites being audited whenever a new design element is introduced.
Importance of Web Accessibility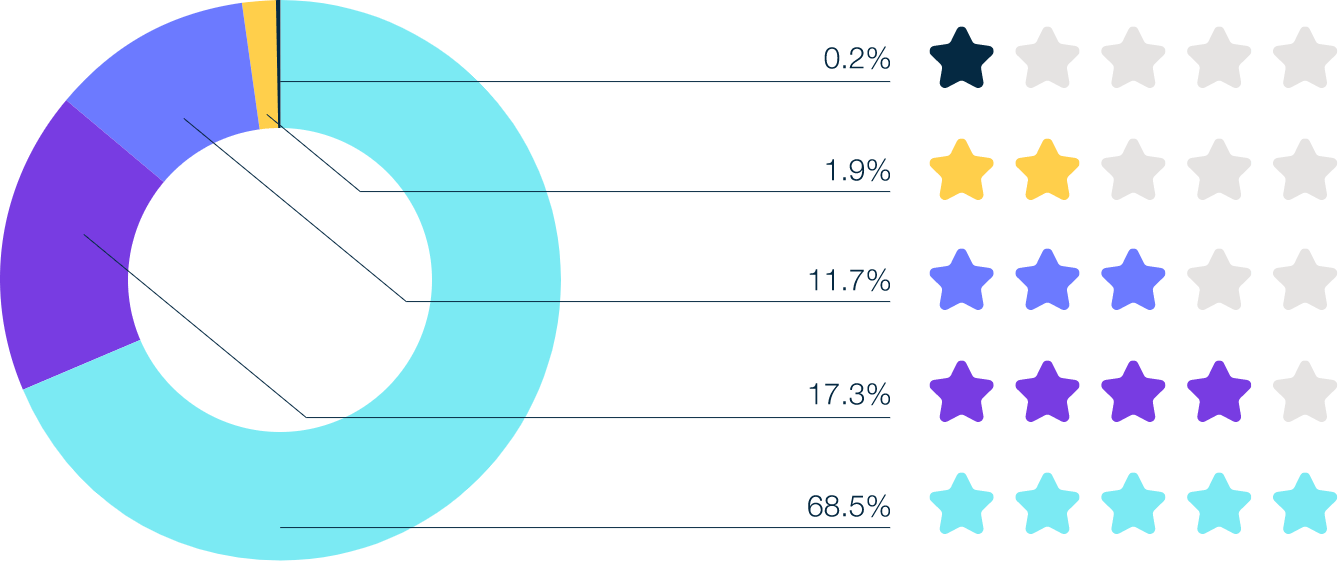 As ensuring web accessibility is an ongoing process often described as more of a journey rather than a destination, in our survey we asked how much time is regularly spent on web accessibility. Almost 30% of respondents spend between one to two hours per month on optimizing for accessibility, while one fifth of those surveyed are spending less than an hour, though 9% of respondents are spending more than ten hours a month on it.
Time spent on web accessibility per month
The variable time investment in web accessibility tends to come down to multiple factors inherent to the organization as well as the complexity of the website in question. In terms of organizational factors, resources allocated to web accessibility, such as dedicated staff and time-saving tools like web accessibility software, play a significant role in how much time is needed or allotted to auditing and fixing accessibility errors.
Solutions such as Monsido's web accessibility features significantly cut down time spent on manual audits. Errors, including missing image alt text or inadequate color contrast, need to be addressed by someone with an understanding of WCAG principles, such as a digital accessibility specialist or staff trained in web accessibility.
Approximately 20% of those polled shared that a redesign is on their radar, with this being one of the main priorities for 2022. A third (33%) of respondents are at organizations with websites that were most recently designed in 2018 or 2019, with 21% having websites dating back to at least 2016.
Age of current website design (years)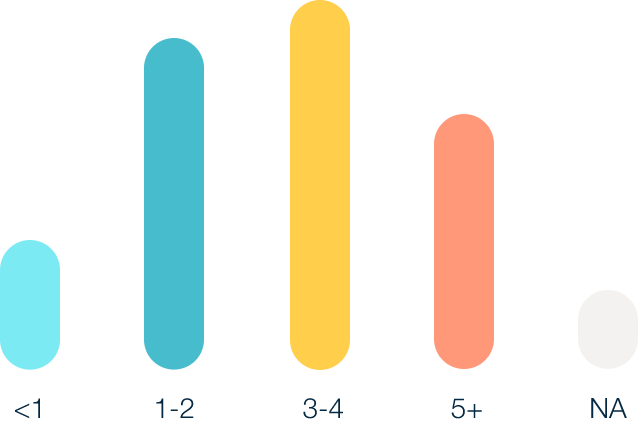 How often is your website redesigned (years)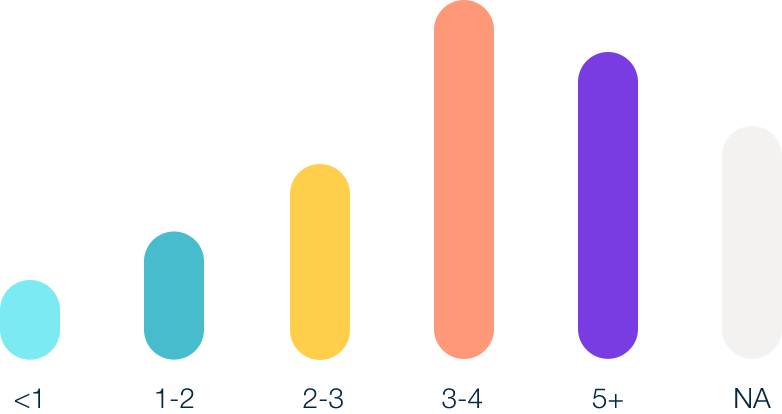 Over 40% of respondents answered that their organizations' website gets redesigned every 2-4 years. According to these responses, quite a few websites are likely due for a redesign, which is not something to be taken lightly. Though with the right resources and guidance, embarking on a redesign can be a rewarding process and yield better conversion when paired with UX optimization.
Getting ready for a website redesign?
Download our Website Redesign Playbook to tackle it with a solid game plan in hand.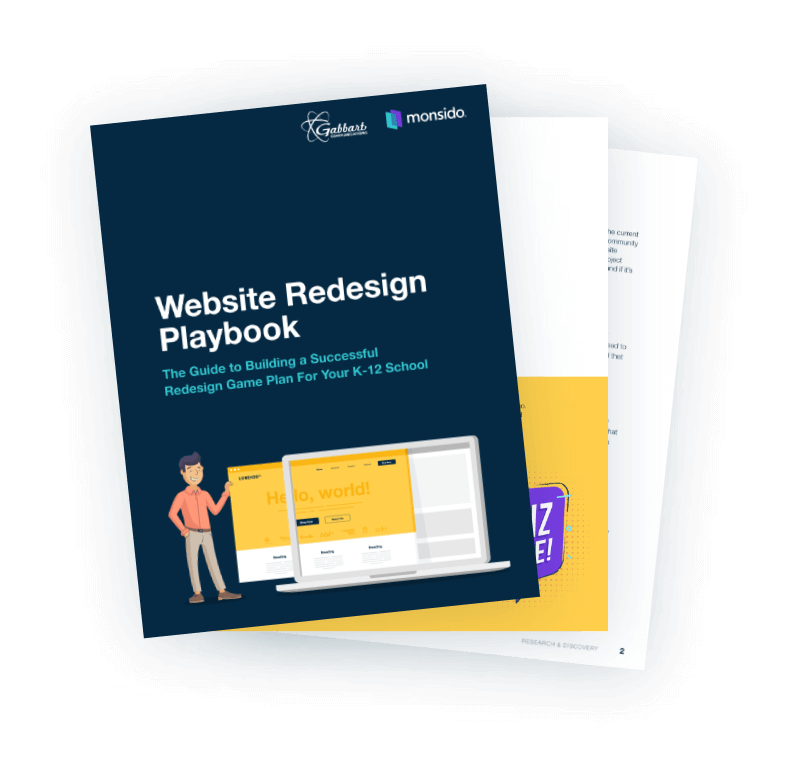 Design Trends on the Horizon
Website design is easily one of the most important factors in a users' impression of a site. A poor design can make a website appear untrustworthy, which is one of the factors that leads to user abandonment. To capture the interest of visitors, design trends from a few years back12 tended to focus primarily on responsiveness and conveying the brand through illustration and color, with animation just beginning to make an entrance. This year, many organizations will find themselves looking to add more animation and interactive design than was present a few years back, though as Hubspot shares through their list13 of yearly award-winning sites, some designers may have been downright prescient.
Usually, when discussing design, the user interface, or UI, is the main focus of the project. However, in 2022, with the different design trends on the horizon, these two elements of design will become more intricately intertwined. According to UX Planets' predictions for 2022, one of the top trends to be on the lookout for this year is what's known as "scrollytelling"14. This is a type of design that makes content come alive when the user scrolls on a site. This new, immersive site experience will likely put engagement metrics such as time spent on page as a more utilized KPI in the coming year.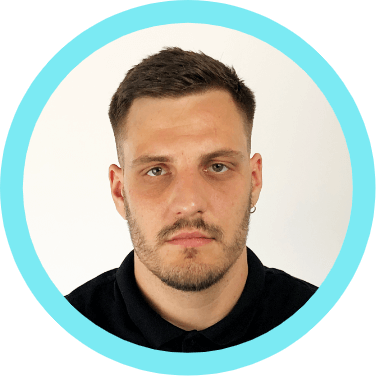 Vladimir Garabas
Design Lead, Brand at Monsido
"Scrollytelling isn't actually new, as it's been a popular design approach in 2021 and it's not going to stop in 2022. Scrolling fatigue is real and it can lead to users not interacting with a page, either because they're bored or frustrated with what's in front of them. Users can't be bothered to scroll just to find the same tired things on every website. With scrollytelling, users instead engage more because, ideally, each scroll reveals just enough to make them curious and want to scroll further. I've applied accessibility principles in my work while using this approach, and since they give you less wiggle room, they've transformed the initial design concept into a simpler and cleaner result."
Trend #4 - Growing traffic
Out of the top priorities cited by our survey respondents, growing traffic is the perennial metric that has yet to be abandoned. 11% of those polled shared that growing traffic, via SEO, adding content, or other tactics, is a priority this year. Though, as we'll explore below, these tactics, as well as how traffic is measured, may be subject to some changes for many organizations in the coming months.
Better alignment between search intent and content is to be expected in 2022. With this shift, SEO (and PPC) on a site will have to consider user intent to ensure keywords used reflect the update in a site's usability and focus. Though informational keywords based on upper funnel search queries will still be incredibly important for building awareness, transactional keywords such as "schedule online session" will become increasingly prominent on websites of businesses that were previously more geared towards offline offerings. Though, with the re-emergence of long-form content15, sites will be able to target long-tail keywords and informational or commercial keywords with lengthy blog posts and longer videos that offer in-depth content to aid the purchase decision or site goal.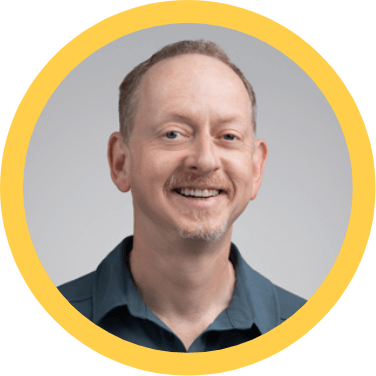 Andrew Shotland
CEO & SEO Consultant at LocalSEOGuide
"Think of it as someone doing a search for a query and clicking on your website for results. They quickly bounce back to the same search and click on another result. That's a signal you may not be the answer for that result. You might find yourself declining in rankings for that kind of query. What you want to do (and this is more about UX) is make sure you have the right landing page for what you're trying to rank for. This is essentially a huge percentage of SEO."
According to our survey, growing traffic (via SEO, content, or other tactic) is the third most prioritized website goal in 2022.
Time spent on SEO per month
Yet, surprisingly, only 11% of those polled spend 10 or more hours working on SEO-related activities on their sites (updating website copy, analyzing keywords, etc.).
Time spent adding content per month
As companies venture into the brave new cookieless world that not only Google Chrome, but most browser types have embraced, 2022 will be the year that redefines KPIs for most marketers. And, given Chrome's current reign, we know first-party data will be the foundation marketing efforts are built on.
Zero-party data
First-party data
Second-party data
Third-party data
Data that a customer shared willingly with a brand.
Data collected from a user through an organization's owned channels.
First-party data from another company acquired through contractual agreement.
Data from random sources purchased from aggregators a user may not have consented to.
Does not get shared with other parties.
Does not get shared with other parties.
Shared with trusted partners with existing agreement.
Shared with many companies.

Example:

Creating a personal profile on a site.

Example:

A log of a users' customer support history.

Example:

Customer feedback on a service.

Example:

Websites visited by a user.
Zero-party data
First-party data
Data that a customer shared willingly with a brand.
Data collected from a user through an organization's owned channels.
Does not get shared with other parties.
Does not get shared with other parties.

Example:

Creating a personal profile on a site.

Example:

A log of a users' customer support history.
Second-party data
Third-party data
First-party data from another company acquired through contractual agreement.
Data from random sources purchased from aggregators a user may not have consented to.
Shared with trusted partners with existing agreement.
Shared with many companies.

Example:

Customer feedback on a service.

Example:

Websites visited by a user.
Third-party data is soon to be a relic of the past for many organizations, with Google announcing it will phase it out on Chrome browsers sometime in the near future16. How exactly this new way of tracking user behavior and purchase patterns is still to be determined, but many industry experts expect to see added personalization options implemented on websites in order to capture more data directly from users in order to better understand and in turn, cater to them. This also means that compliance will become even more relevant in 2022.
With marketers focusing on growing traffic in 2022, web compliance will become of greater importance, ensuring new visitors are able to easily opt in to updated cookie settings and compliant newsletter sign ups.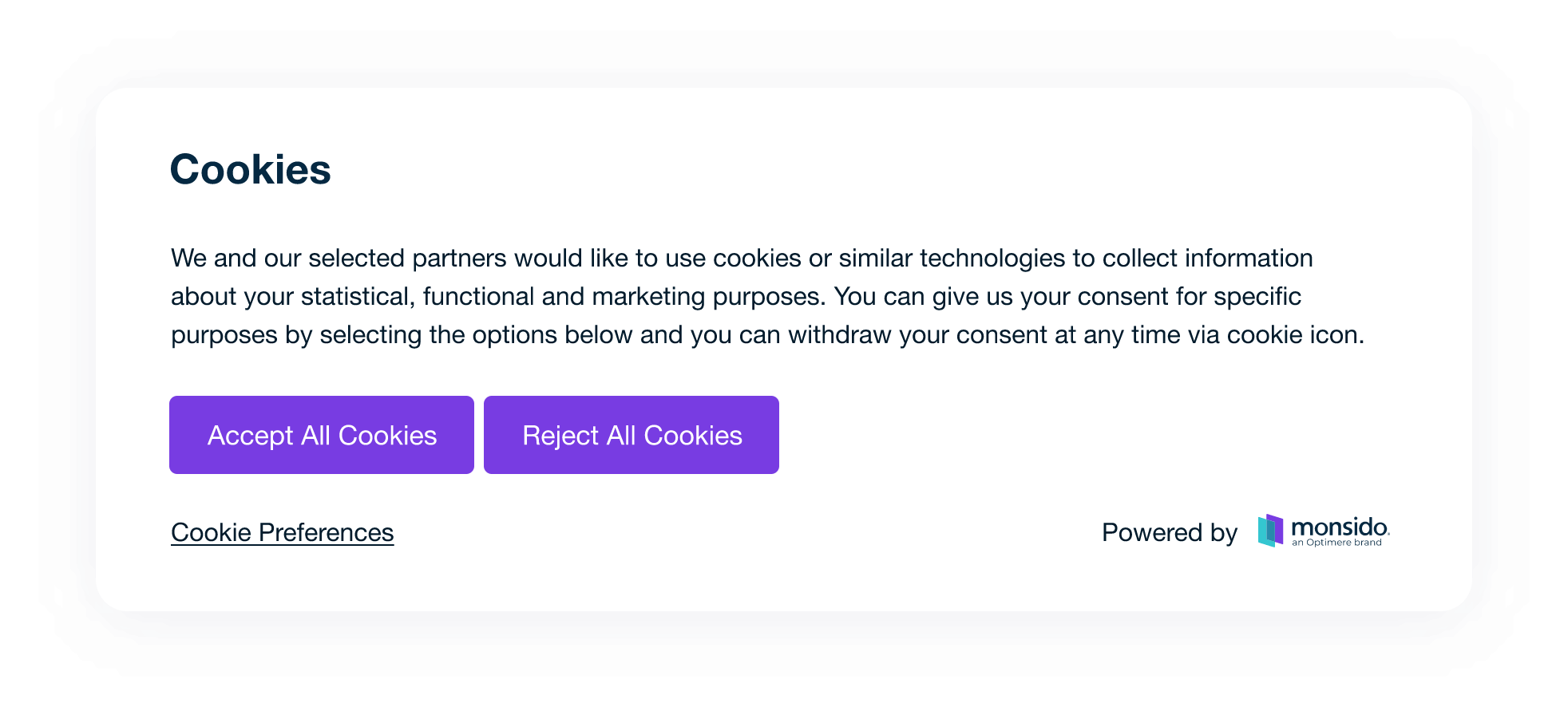 An example of a compliant cookie banner on monsido.com
Around 62% of respondents rated web compliance as very important (5 out of 5 on the scale). Only 1% rated it as 1 out of 5, as a low priority. Considering the value of compliance and the risk associated with not having a compliant website, web professionals will need to stay-up to date with the updates to the algorithm and legislation that may emerge to ensure privacy and security for users.
Importance of Web Compliance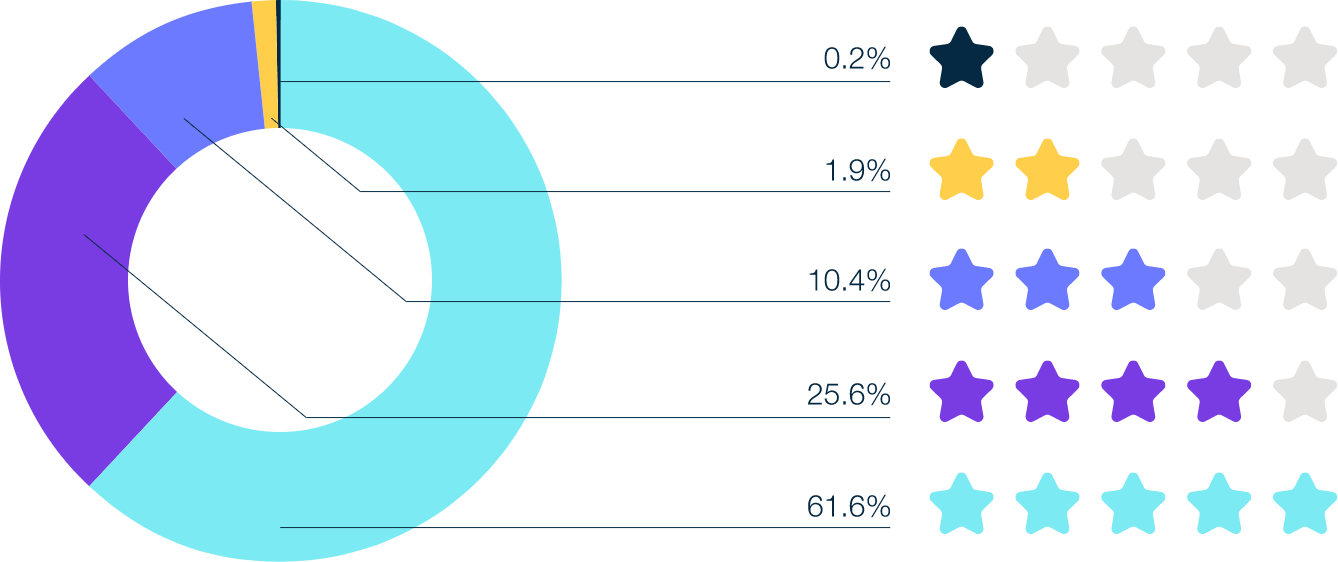 When asked what the main challenges are for achieving a more compliant website, 42% of respondents reported a lack of resources (including budget and headcount) as the factor that most impacted their compliance efforts. Another 22% stated that a lack of education or insight into evolving compliance requirements was the biggest challenge faced.
Main challenges with website compliance
Want to gain insight into how to create a more compliant website?
Download our free 2022 Essential Web Compliance Handbook and find the resources you need to get started.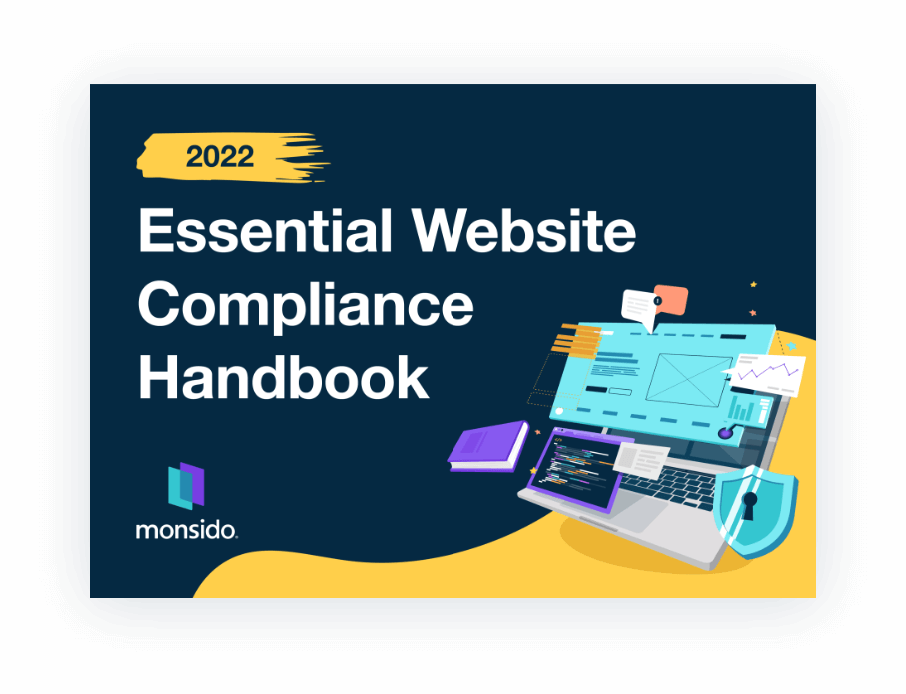 The State of Websites 2022 report and survey provides a clear overview of digital professionals top priorities and influences in web optimization for the coming year. It is clear that in today's ever changing digital landscape, having a fully optimized website needs to be kept at the forefront of organizations priorities. Here are some of the key takeaways moving forward:
User experience should be a continuous goal to strive for
Opt for a mobile first approach
Keep accessibility practices at the forefront of your design
Consider a redesign once every two to three years
Keep in mind users intent when leveraging your SEO practices
Maintaining compliance on the website is an on-going endeavor that is important
Monsido powered by CivicPlus is a leading web governance solution designed to enable organizations to deliver a superior and inclusive user experience across their digital presence and support their journey to ensure communications are open, optimized, and compliant. The Monsido Platform includes a comprehensive suite of tools for web accessibility, website quality assurance, brand and content compliance, user consent management, social and web content archiving, and more.