Elevate your website's performance with easy-to-use solutions tailored to your skill level and the needs of your site.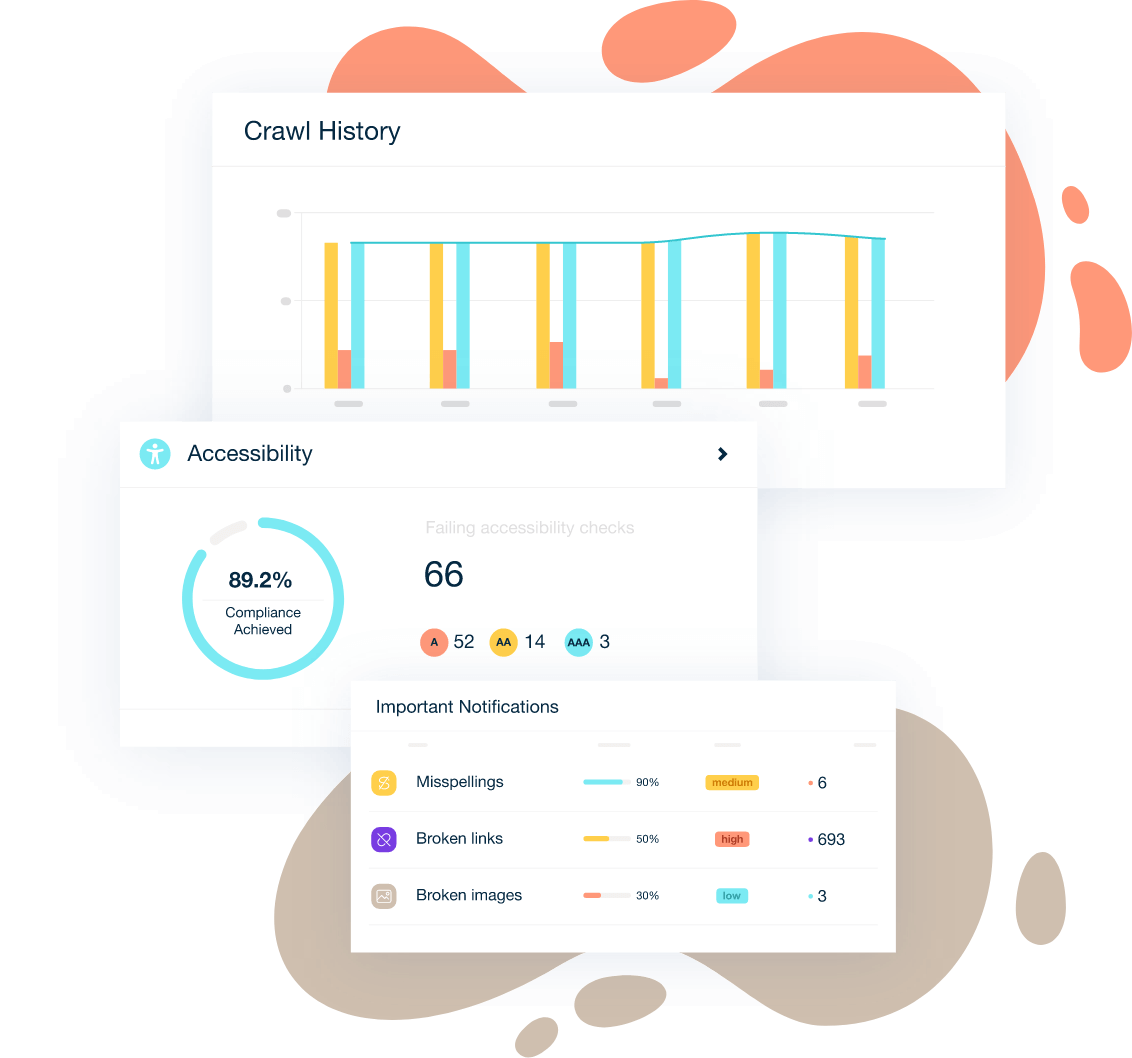 Frequently Asked Questions
Monsido's intuitive web governance platform scans for content, branding and style, SEO, web accessibility, compliance, data privacy, and website performance issues, and provides recommendations on how to fix these efficiently.
Our platform helps automate website management processes, streamline reporting, address regulatory compliance, consolidate marketing and digital tools, and create better collaboration and visibility across teams.
Monsido crawls your public-facing website(s) and does not access or store any confidential data. Crawling public websites is done by both known (such as Google and Bing) and unknown crawlers every day. What Monsido does is similar and has no effect on website performance. Password protected sections of the website and intranets are not crawled unless this is explicitly requested and set up.
Crawls are started every seven days. The time, date, and speed of the crawl can be set by the website administrator. Monsido also offers on-demand scans that you can run outside the weekly scheduled crawls, and single page scans available via the Monsido Browser Extension. Scanning times can vary depending upon your domain's size, connection speed, and structure. Monsido's scanning will not impede performance for your site.
Yes, you can add an unlimited number of users to your Monsido account. Based on the nature of their work and responsibilities, users can be assigned to all or specific modules and domains in Monsido.
You do not need to have technical knowledge to use Monsido. Monsido gives in-tool recommendations on how to fix errors, provides an extensive Knowledge Base to answer your queries, and offers quick customer support and training to support you. Monsido is used by a wide variety of users, from one-person teams in small organizations to large marketing and digital teams at global organizations.
Our pricing is based on a number of factors including the size of the website, number of domains, and options you would like included. Customer support and training is included in all Monsido packages.
Customer support and training is included in all Monsido packages at no extra charge. We are proud to offer the only in-tool live chat support on the market with response times average less than 3 minutes. Customer satisfaction rates are above 97%!
Monsido's Customer Success Team gives you the help you need to make sure you're getting the most out of your investment. We provide unlimited one-on-one and group product training options, webinars, and a built-in Knowledge Base inside the product. We also have live support via chat, email, and phone.
Monsido provides a range of premium add-ons that can be added to your Monsido package.
Monsido's Data Privacy controls and protects personal data on your website by scanning your domain to locate sensitive information and potential privacy risks, such as social security or other personal identification numbers. Audit your site against existing privacy standards in your region.
Monsido's Performance module eliminates the guesswork involved in speeding up your website by automatically identifying elements that are slowing it down so you can take targeted measures to improve its performance. Doing so can enhance user experience, increase conversions, and improve search engine rankings.
PageCorrect™ offers you a complete solution to identify and correct quality assurance and accessibility issues directly from the Monsido platform without having to login to your CMS.
PageAssist™ is an add-on feature that complements your web accessibility efforts by offering more options for visitors to better access content and functions across your website, such as larger fonts or removing animations. PageAssist™ is a personalization toolbar that allows visitors to customize their visual experience based on their own unique requirements.
Monsido's Heatmaps tool uses a warm-to-cold color scheme to show you exactly how your web pages are performing and how visitors actually interact with your pages. Identify where visitors are losing engagement or getting stuck on your website.
Monsido is integrated with CommonLook Clarity for scanning and managing PDF accessibility. Clarity enables your teams to test and maintain the accessibility of your organization's PDF resources.
Monsido integrates with many different CMS platforms to easily hop from the Monsido platform directly into specific pages in your CMS to fix flagged issues faster. The Monsido Browser Extension is also available as a plug-in option for major CMS like WordPress, Joomla, Drupal, and more so you can work with Monsido directly in your CMS. Please reach out to our team for a full list of which CMS platforms we integrate with.
We use Google Cloud Platform as the hosting environment for our services. Unless otherwise agreed upon, the location of customer data will be based on which Monsido branch your contract is with.
This means that customer data for the United States Monsido office and subsidiaries will be processed and stored within the United States, customer data for the Asia-Pacific Monsido office and subsidiaries will be processed and stored within Australia, and customer data for Europe and the United Kingdom Monsido offices and subsidiaries will be processed and stored within Europe.
Yes, Monsido has a dedicated Partner Program with four different tracks, including for Agencies, Resellers, Referral, and Technology Partners.
Yes, Monsido can scan development and staging sites. Many of our clients have used the Monsido platform during their website launches, migrations, and redesigns to launch sooner with fewer errors and see valuable results quickly.
7 key reasons Monsido is useful for website redesigns:
Automate and streamline processes so you can launch sooner.
Speed up and increase the effectiveness of asset and content audits.
Make sure you don't copy faulty content to your new website by easily locating outdated, under-viewed, irrelevant, or error-filled content.
Keep your vendors, freelancers, web team, digital marketing team, and project management team accountable for their work throughout the website redesign.
Enables you to check your website's quality, performance, and accessibility levels before launching.
Have an independent assessment to identify errors just before you launch by scanning the development/staging site.
Stay on top of post-launch website maintenance so you don't have to do a refresh or redesign again in the near future.
Find out more about how Monsido can help with your website redesign.
Make Your Website Better With Monsido
Find out how Monsido's tools can make your website optimization process efficient and effective.