Section 508 of the Rehabilitation Act of 1973
Section 508 of the Rehabilitation Act of 1973 requires federal agencies in the United States to ensure that their electronic and information technology is accessible.
What is Section 508 and how does it relate to websites?
Section 508 of the Rehabilitation Act of 1973 (
29 U.S.C § 794 d
) is a federal law that mandates federal agencies to ensure that their electronic and information technology they develop, procure, maintain, and use is accessible to people with disabilities and that access is comparable to access available to individuals without disabilities, regardless of whether they are employees or members of the public. The electronic and information communication technology subject to Section 508 includes websites, web applications, software, digital documents, etc.
In 2018, Section 508 was refreshed and updated to make compliance easier. The refresh introduced a harmonization of accessibility standards with international accessibility standards; the application of the Web Content Accessibility Guidelines (WCAG) to websites; the requirement that all public-facing business content, as well as specific categories of non-public-facing content that is still under official agency business, to be accessible; electronic documents, and software, as well as clarifying the need for tools and technology to work with assistive technology.
Who has to comply with Section 508?
Section 508 only applies to federal agencies in the United States, so it doesn't affect private organizations or other countries. However, the US government has huge purchasing power, so many companies and organizations around the globe strive to be Section 508 compliant.

Even when 508 does not apply, websites in the United States may still be subject to other regulations like the ADA.
Difference between Section 508 and ADA compliance
Both Section 508 and the Americans with Disabilities Act (ADA) are US laws that enforce website accessibility for people with disabilities. However, these two laws apply to different areas of society. The ADA is a civil rights law that prohibits the discrimination of people with disabilities in various fields, such as areas of public accommodation, which has expanded its definition to include websites. Section 508 however, is a federal law that governs the use and maintenance of electronic and information technology. Also, the ADA affects local and state governments, non-profit organizations, and businesses; whereas Section 508 applies to only federal agencies.
Difference between Section 508 and Section 504 compliance
There is another section under the Rehabilitation Act of 1973 that references accessibility for people with disabilities: Section 504. Section 504 requires agencies to provide people with disabilities equal access to participate in their programs and use their services. The law applies to organizations that receive federal funding such as higher education institutions, non-profits, schools, hospitals, mental health centers, and more. While Section 504 does not expressly refer to web accessibility, it does specify that agencies must provide auxiliary aids, such as braille, content with enlarged print, video captions, etc. to make information available for people with disabilities. However, a post on
Section508.gov's blog
has clarified that accessibility for facilities and communications such as websites do indeed, fall under Section 504's requirements.
What web accessibility standards does Section 508 use?
Under the 2018 refresh of Section 508, all electronic content, such as web content, software, etc., must conform to WCAG 2.0 level A and AA.
How to comply with Section 508
While Section 508 does follow the WCAG 2.0, the process to compliance is more detailed. Agencies must consider auditing their site and improving it as guided by the WCAG 2.0. Here is a quick checklist that agencies can use to run a surface-level audit of their site before conducting a full technical review. This checklist covers the basics of an accessible site and missing any one of these elements can be a sign of inaccessibility.
Provide alternatives for time-based media like audio and video content
When presenting content in formats like audio and video, ensure that you provide users with alternative media like captions, subtitles, sign language, or transcripts.
Build websites to support assistive technology
Websites should be able to accommodate assistive technology like screen readers which are mostly used by people with visual impairments to convert text and images into synthesized speech.
Ensure that your website is navigable with only a keyboard. This is helpful to people with motor disabilities that cannot use a mouse.
Ensure that you enable 'skip navigation' links for those who use the keyboard to navigate the site. This enables users to skip repetitive elements like the navigation menu and get directly to the content of the page.
Include alternative text on images
Images on your site will also be read by screen readers, so be sure to include alternative text (alt text) in them to help screen reader users gain more context to what the image is about. The alternative text will need to be descriptive and clear to the user. For design elements that do not add value to the content or are there for purely aesthetic purposes, you should mark them as decorative by setting a 'null' alt text.
Include alternative text on video
Just like the alt text on images, you should also provide alt text for any embedded videos.
Use accessible colors and contrast
Colors are a crucial part of your website design, but using the wrong color combinations can result in poor color contrast, making it difficult for people with visual impairments like color blindness and low vision, to view your content. WCAG 2.0 level AA requires a contrast ratio of at least 4.5:1 for normal text and 3:1 for large text.
Anything image, animation, or video that flickers between the frequency of 5 to 30 flashes per second (Hertz) can trigger photosensitive epilepsy in some people.
Avoid time-limits on content
Having content time out is not Section 508 compliant. Some people with certain disorders might need more time than others to read and process information, as well as execute an action online, and having time limits can hinder their activity on your site and ruin their user experience.
Besides auditing their websites and other ICT, agencies are recommended to build an accessibility program to drive and maintain accessibility initiatives. Under this program, agencies are required to appoint a program manager to lead initiatives, develop an accessibility policy, audit their websites and other ICT to assess their accessibility levels, provide training to their teams, and continually test and validate accessibility.
Learn more about how to build a Section 508 accessibility program.
How to test your website for Section 508 compliance
The content that will need to be scrutinized for Section 508 compliance are:
Website content
Software
Documents
PDFs
Presentations
Spreadsheets
Video and audio content
There are several ways to approach testing your agency's website against Section 508 standards:
Automated testing
- Using automated testing tools, like Monsido, that do website validation against WCAG requirements. This is the most efficient way of approaching Section 508 compliance, but these automated testing tools have limitations. For one, they do not take into account human subjectivity and can generate false-positives when testing your site. You will always need to validate your website's accessibility against actual users with disabilities.
Manual testing
- Using a process that is documented, consistent, and repeatable, based on the testing methods outlined by
section508.gov
.
Hybrid testing
- a combination of both automated and manual testing, an efficient and scalable way of approaching large websites heavy with content. Automated testing is used to uncover errors on the site, while manual testing is implemented on new and prioritized content.
What happens when you fail to comply with Section 508?
Failure to comply with Section 508 can result in lawsuits filed against agencies, delays in the implementation of vital technology investments, and overall damage to brand and image.
How Monsido can help your website comply with Section 508
Monsido's Web Accessibility Module
audits your entire site for accessibility against the WCAG 2.0 and 2.1 (and any subsequent updates to the guidelines).
Each audit scans your site for machine-testable issues, provides detailed reports so you can review any errors that may arise, gives you targeted recommendations on how to address these errors based on the guidelines, and shows you your compliance based on levels A, AA, and AAA. You can track and prove your accessibility compliance progress via reports in the History Center. We also offer accessibility training to customers and support, all-inclusive, to ensure that you are well-versed in both automated and manual remediation methods, and can efficiently and consistently improve your website's accessibility.
Monsido also offers free tools to complement your web accessibility efforts, including a
color contrast checker
for web teams to test out compliant color combinations for their web design, and an accessibility statement generator, which helps you generate a public statement declaring your commitment to web accessibility and helps make your web accessibility policy transparent to all your users.
The information in this article is made available by Monsido ApS and/or its subsidiaries and affiliates and is for informational purposes only so as to provide its customers with a general understanding of current legal developments. It should not be construed as providing specific legal advice, and you acknowledge that no attorney/client relationship exists between you or any third party and Monsido ApS and/or its subsidiaries and affiliates. This article should not be used as a substitute for competent legal advice from a licensed lawyer in your jurisdiction.
Want More Information on Accessibility?
Get the datasheet to learn more about the product and how you can benefit from it.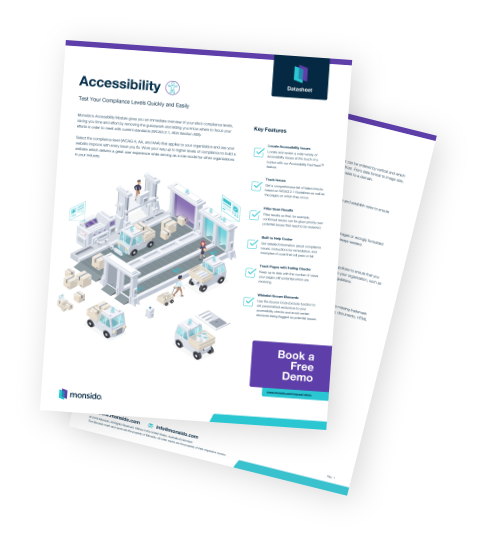 Make Your Website Better With Monsido
Find out how Monsido's tools can make your website optimization process efficient and effective.