The European Accessibility Act (EAA)
Get an overview of what the European Accessibility Act means in terms of web accessibility and find out what steps you can take to ensure compliance.
What is the European Accessibility Act?
Intended to introduce more accessible products and services on the market, lower prices for such services, and create more accessibility related jobs, the European Accessibility Act (EAA) is a directive of the European Union that legally requires EU member states to enact various accessibility requirements.

The Act will have significant and far reaching effects for online organizations operating within the EU. Most importantly, it will provide EU member states with a set of common accessibility rules to follow, which will theoretically bring about greater cohesion and consistency to the area as a whole.
Who has to comply with the European Accessibility Act?
Significantly, the new Act applies not just to public sector organizations, as was the case with previous EU legislation - the EU Web Accessibility Directive, but also to selected private organizations.
The European Accessibility Act will cover the following products and services:
computers and operating systems
ATMs, ticketing and check-in machines
telephones and smartphones
TV equipment related to digital television services
telephony services and related equipment
audiovisual media services, such as television broadcast and related consumer equipment
services related to air, bus, rail and waterborne passenger transport
banking services
e-books
e-commerce
It is important to note that the EAA applies to products and services sold or used within the EU- irrespective of where the businesses providing said products and services are located.
What web accessibility standards does the European Accessibility Act use?
The European Accessibility Act uses the European standard EN 301 549. EN 301 549 has adopted the
Web Content Accessibility Guidelines (WCAG) 2.1
which covers the accessibility for web content, electronic documents, and non-web software, such as native mobile apps.
WCAG and the European Accessibility Act
EN 301 549 covers conformance to both WCAG 2.1 level A and AA, but not level AAA, which enables a more seamless harmonization with other procurement standards. It is important to note that web authors and procurement accessibility specialists are encouraged to improve and extend the accessibility of websites and apps beyond the outlined standards where applicable and relevant, however.

WCAG 2.1's four principles of accessibility: perceivable, operable, understandable, and robust are covered by EN 301 549.
Perceivable
The information and user interface components of websites and mobile applications must be presented in a way that enables users to perceive them clearly.
Operable
The functionality and navigation of the web and mobile user interface components must be usable.
Understandable
The information and operation of the web and mobile user interface must be easily understood by people of differing abilities.
Robust
The content of the website must have the ability to be interpreted reliable across a range of assistive technologies, and have the ability to adapt to new user agents.
EN 301 549 also specifies the functional accessibility requirements for ICT products and services, including web content, which could be used in public procurement or to support other policies and legislation.
The final deadline for EU member states to adopt the European Accessibility Act's requirements is June 28, 2022.

By this date, member states of the EU must have created their own digital accessibility law per the EAA and have it incorporated into their national laws.
How to comply with the European Accessibility Act
To comply with the EAA, organizations must ensure that they are taking the necessary measures to make their websites and mobile applications accessible by following the WCAG principles of perceivable, operable, understandable, and robust.

The deadline for compliance is expected to be June 22, 2025.
It is important to note that even if your organization is not based in the EU, you will still be expected to comply with the EAA's requirements when operating within any of its member states.
Benefits for Businesses and Consumers
The EAA will serve as an incentive for companies to produce more accessible products and services. As its requirements will apply to all EU member countries, and not simply to those countries who have already established their own accessibility regulations, the market for accessible offerings will greatly expand.
This, in turn, will benefit consumers, who will have more accessible products and services made available to them.
Are any organizations exempt from the EAA's requirements?
There are some organizations, referred to as ''micro-enterprises'', that are exempt from the Act, based on the fact that its requirements would cause them ''undue burden''.
Micro-enterprises are defined as companies with fewer than 10 employees and with an annual turnover of less than two million Euros. Such organizations are exempt from the EAA's requirements, as for them achieving compliance would either mean changing the core nature of the product or service they offer or becoming financially overburdened.
In addition, the directive does not apply to the following types of content on websites and apps:
Pre-recorded time-based media published before June 2025.
Office file format documents published before June 2025.
Online maps; though if the map is used for navigational purposes then the essential information must be provided in accessible format.
Third party content that is entirely out of the control of the website or app owner.
Reproductions of items in heritage collections which are too fragile or expensive to digitize.
The content of web sites and apps which are considered archival, meaning they are not needed for active administrative purposes and are no longer updated or edited.
The web sites of schools, kindergartens, and nurseries, except for content pertaining to administrative functions.
What happens if you fail to comply with the European Accessibility Act?
Violations of the EAA will be penalized according to national laws, however expert commentators suggest that member states will likely opt to impose fines on those who do not comply with the directive's regulations.
How Monsido can help your website comply with the European Accessibility Act
Monsido's
Web Accessibility Module
audits your entire site for digital accessibility against the WCAG 2.1 success criteria (and any subsequent updates to the guidelines).
Each audit scans your site for machine-testable issues, provides detailed reports so you can review any errors that may arise, gives you targeted recommendations on how to address these errors based on the guidelines, and shows you your compliance based on WCAG 2.1 levels A, AA, and AAA. You can track and prove your accessibility compliance progress via reports in the History Center. We also offer accessibility training to customers and support, all-inclusive, to ensure that you are well-versed in both automated and manual remediation methods, and are able to efficiently and consistently improve your website's accessibility.
Monsido also offers free tools to complement your web accessibility efforts, including a color contrast checker for web teams to test out compliant color combinations for their web design, and an accessibility statement generator, which helps you meet the requirements of the EU Web Accessibility Directive by producing a public statement declaring your commitment to web accessibility.
The information in this article is made available by Monsido ApS and/or its subsidiaries and affiliates and is for informational purposes only so as to provide its customers with a general understanding of current legal developments. It should not be construed as providing specific legal advice, and you acknowledge that no attorney/client relationship exists between you or any third party and Monsido ApS and/or its subsidiaries and affiliates. This article should not be used as a substitute for competent legal advice from a licensed lawyer in your jurisdiction.
Want More Information on Accessibility?
Get the datasheet to learn more about the product and how you can benefit from it.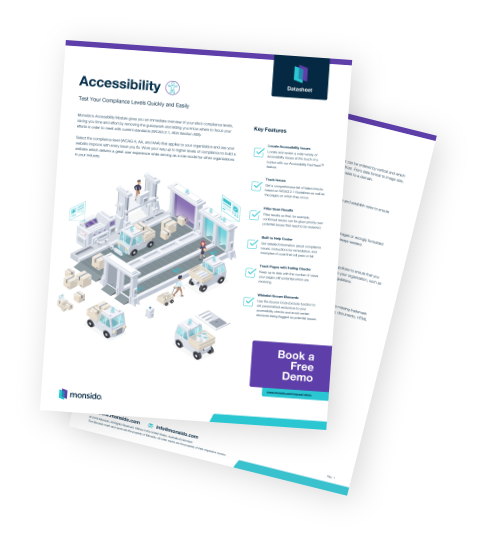 Make Your Website Better With Monsido
Find out how Monsido's tools can make your website optimization process efficient and effective.