EU Web Accessibility Directive
Get an overview of what the EU Web Accessibility Directive means in terms of web accessibility and learn the steps you need to become compliant.
What is the EU Web Accessibility Directive?
The European Union (EU) is committed to improving the lives of people of the 70 million people with disabilities that live in the region and all its member states in every aspect, including that of web access. The EU published the Directive (EU) 2016/2102 of the European Parliament and of the Council of 26 October 2016 on the accessibility of the websites and mobile applications of public sector bodies (known in short as the European Web Accessibility Directive) to standardize and harmonize the framework around the web and mobile accessibility of public sector organizations.
Who has to comply with the EU Web Accessibility Directive?
The EU Web Accessibility Directive applies to
public sector bodies
, including:
State, regional or local authorities
Bodies governed by public law
Associations formed by one or more such authorities or one or more such bodies governed by public law, if those associations are established for the specific purpose of meeting needs in the general interest, not having an industrial or commercial character
The Directive also encourages member states to extend its application to private bodies that operate with the public, such as healthcare, childcare, social inclusion, transport, electricity, gas, heat, water, electronic communication, postal services, etc.
Public service broadcasters or non-governmental organizations that do not provide services that are important to the public or specifically for people with disabilities are excluded from this Directive.
What web accessibility standards does the EU Web Accessibility Directive use?
The EU Web Accessibility Directive uses the European standard EN 301 549. EN 301 549 has adopted the Web Content Accessibility Guidelines (WCAG) 2.1 which covers the accessibility for web content, electronic documents, and non-web software, such as native mobile apps.
WCAG and the EU Web Accessibility Directive
EN 301 549 covers conformance to WCAG 2.1 level A and AA, but not level AAA to enable a more seamless harmonization with other procurement standards. Web authors and procurement accessibility specialists, however, are still encouraged to improve and extend the accessibility of websites and apps beyond the outlined standards where applicable and relevant.

The EN 301 549 follows WCAG 2.1's four principles of accessibility: perceivable, operable, understandable, and robust.
Perceivable
The information and user interface components of websites and mobile applications must be presented in a way that enables users to perceive them clearly
Operable
The functionality and navigation of the web and mobile user interface components must be usable.
Understandable
The information and operation of the web and mobile user interface must be easily understood by people of differing abilities.
Robust
The content of the website must have the ability to be interpreted reliable across a range of assistive technologies, and have the ability to adapt to new user agents.
EN 301 549 also specifies the functional accessibility requirements for ICT products and services, including web content, which could be used in public procurement or to support other policies and legislation.
What does the EU Web Accessibility Directive cover?
For public sector websites and mobile applications, the content that is covered by the Directive includes:
Non-textual information
Downloadable documents
Form
Two-way interaction such as the processing of digital forms and the completion of authentication, identification and payment processes.
The Directive does not apply to the following content:
Office file formats published before 23 September 2018
Pre-recorded time-based media published before 23 September 2020
Live time-based media
Online maps and mapping services
Third-party content that is neither funded, developed or controlled by, the public sector body concerned
Reproductions of items in heritage collections that cannot be made fully accessible because the preservation and authenticity of the item may be affected or there is no effective solution to convert it into an accessible format.
Content of extranets and intranets published before 23 September 2019, unless these websites undergo a significant update
Content of websites and mobile applications qualifying as archives, meaning that they only contain content that is neither needed for active administrative processes nor updated or edited after 23 September 2019.
How to comply with the EU Web Accessibility Directive
To comply with the EU Web Accessibility Directive, member states must ensure that their public sector bodies are taking the necessary measures to make their websites and mobile applications accessible by following the WCAG principles of perceivable, operable, understandable, and robust. Public sector bodies must also commit to the following:
1. Producing an Accessibility Statement
Public sector bodies within the EU member states must provide an accessibility statement clearly detailing their explanation for any inaccessible elements that may still be present on the website or application, as well as information on alternatives for access. The statement must also include a feedback mechanism that website users can use to provide information on accessibility failures, request for more information, and submit complaints.
2. Monitoring Accessibility
Conformance to the standards in the Directive should be monitored using a methodology that includes:
the periodicity of the monitoring and website sampling arrangements;
the sampling of web pages, of the content on those pages and of the content of mobile apps;
a description of the way to determine compliance;
where deficiencies are found, a mechanism to help public sector bodies correct them;
arrangements for automatic, manual and usability tests.
3. Reporting
The member states will have to submit a report on their web accessibility progress to the EU Commission every three years starting from 23 December 2021. The report should cover the information and results of the enforcement of the Directive and the content of all the reports will be made public in an accessible format. The application of the Directive will be reviewed by the Commission by 23 June 2022. Besides reporting on the progress from the monitoring activity, the report should also include
A description of the mechanisms set up by Member States for consulting with relevant stakeholders on the accessibility of websites and mobile applications;
procedures to make public any developments in accessibility policy relating to websites and mobile applications;
experiences and findings from the implementation of the rules on conformity with the accessibility requirements
information on training and awareness-raising activities.
What happens if you fail to comply with the EU Web Accessibility Directive
There are no set penalties for non-compliance. Each EU member state sets its own penalties for failing to conform with the directive and the local legislation related to it.
How Monsido can help your website comply with the EU Web Accessibility Directive
Monsido's
Web Accessibility Module
audits your entire site for digital accessibility against the WCAG 2.1 success criteria (and any subsequent updates to the guidelines).
Each audit scans your site for machine-testable issues, provides detailed reports so you can review any errors that may arise, gives you targeted recommendations on how to address these errors based on the guidelines, and shows you your compliance based on levels A, AA, and AAA. You can track and prove your accessibility compliance progress via reports in the History Center. We also offer accessibility training to customers and support, all-inclusive, to ensure that you are well-versed in both automated and manual remediation methods, and are able to efficiently and consistently improve your website's accessibility.
Monsido also offers free tools to complement your web accessibility efforts, including a color contrast checker for web teams to test out compliant color combinations for their web design, and an accessibility statement generator, which helps you meet the requirements of the EU Web Accessibility Directive by producing a public statement declaring your commitment to web accessibility.
The information in this article is made available by Monsido ApS and/or its subsidiaries and affiliates and is for informational purposes only so as to provide its customers with a general understanding of current legal developments. It should not be construed as providing specific legal advice, and you acknowledge that no attorney/client relationship exists between you or any third party and Monsido ApS and/or its subsidiaries and affiliates. This article should not be used as a substitute for competent legal advice from a licensed lawyer in your jurisdiction.
Want More Information on Accessibility?
Get the datasheet to learn more about the product and how you can benefit from it.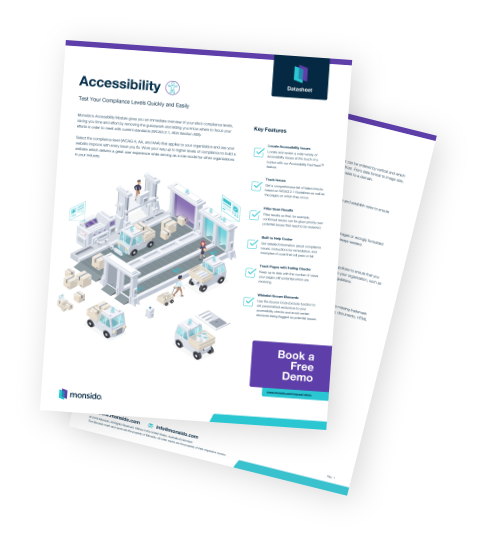 Make Your Website Better With Monsido
Find out how Monsido's tools can make your website optimization process efficient and effective.