Australian Disability Discrimination Act 1992
Get an overview of what the Australian Disability Discrimination Act (DDA) 1992 means in terms of
web accessibility
and learn the steps you need to become compliant
What is the Australian Disability Discrimination Act (DDA)?
The Australian Disability Discrimination Act 1992 (DDA) protects people with disabilities against discrimination across different areas of public life, including employment, education, provision and use of services, public space access, activities in clubs and associations, sports, the purchase or renting of accommodation, and administration of Commonwealth Government laws and programs. It is the leading legislation in Australia protecting people with disabilities and promoting accessibility and equality for people with disabilities.
Who does the DDA protect?
The DDA protects people with disabilities including people with permanent disabilities like physical, intellectual, sensory, neurological, learning and psychosocial disabilities, or temporary disabilities like medical conditions, illnesses or injury. The law covers disabilities in the past, present and ones that may be incurred in the future, as well as assumed disabilities. It also protects people who are personally connected or affected by people with disabilities, like a parent, friend, child, or coworker, if they are somehow discriminated against based on their relationship to the person with a disability.

The DDA also protects against discrimination and harassment of people because of the following factors:
They are accompanied by an assistant, carer, interpreter, or reader
They require the presence of a trained assistance animal, such as a guide or hearing dog
They use equipment or aids, such as a wheelchair, canes, or a hearing aid
Who has to comply with the Disability Discrimination Act?
The DDA applies to all persons and institutions working in the following areas:
Employment
Education
Access to premises used by the public
Provision of goods, services and facilities
Accommodation
Buying land
Activities of clubs and associations
Sport
Administration of Commonwealth Government laws and programs


How does the DDA apply to web accessibility?
Under the DDA legislation, the provision of information and online services through the web is a fundamental human right and a legal requirement. Individuals and organisations that own or develop a website must provide equal access to people with disabilities in this area where it can be reasonably provided.

This includes websites and other web resources, like PDFs and documents, that are involved in:
Employment
Education
Provision of services including professional services, banking, insurance or financial services, entertainment or recreation, telecommunications services, public transport services, or government services (including federal, state, and local government councils, departments, and agencies)
Sale or rental of real estate
Sport
Activities of voluntary associations
Administration of Commonwealth laws and programs
Web accessibility
guidance is provided by the document: World Wide Web Access: Disability Discrimination Act Advisory Notes (current version, 4.1). The advisory notes are not legal requirements but are more guidelines to assist individuals and organisations that own or develop web resources in the requirements of the DDA. While not having a legal force, this document is still used by the Australian Human Rights Commission as a reference when dealing with any DDA complaints filed.EN 301 549 also specifies the functional accessibility requirements for ICT products and services, including web content, which could be used in public procurement or to support other policies and legislation.
The
Web Content Accessibility Guidelines (WCAG)
2.1 is considered to be the most comprehensive set of testable guidelines for web accessibility by the Australian Human Rights Commission. The WCAG is international and covers the current best practices of accessible web design.
What happens if you fail to comply with the DDA?
The DDA offers individuals with disabilities a means to file complaints and seek redress for disability discrimination in the listed areas of public life. If a person feels like they have been discriminated against or harassed on the grounds of their disability, they can submit a written complaint detailing the events that ensued to the Australian Human Rights Commission via their online form.

The Commission will then launch an investigation on the issue by looking into the events recounted by both parties. Most cases will result in conciliation, an informal process that allows both parties to discuss the issue at hand to try and resolve it. If there is no resolution via conciliation, the person who filed the complaint can take the case to the Federal Court of Australia or the Federal Circuit Court.
As an example, a woman with vision impairment filed a claim against the supermarket chain, Coles, in 2014 over the accessibility of their online shopping service. The claimant faced significant difficulties completing an online order on the Coles website and the case made it to the Federal Circuit Court.
How Monsido can help your website comply with the Disability Discrimination Act?
Monsido's Web Accessibility Module
audits your entire site for accessibility against the WCAG 2.1 (and any subsequent updates to the guidelines).
Each audit scans your site for machine-testable issues, provides detailed reports so you can review any errors that may arise, gives you targeted recommendations on how to address these errors based on the guidelines, and shows you your compliance based on levels A, AA, and AAA. You can track and prove your accessibility compliance progress via reports in the History Center. We also offer accessibility training to customers and support, all-inclusive, to ensure that you are well-versed in both automated and manual remediation methods, and are able to efficiently and consistently improve your website's accessibility.
Monsido also offers free tools to complement your web accessibility efforts, including a color contrast checker for web teams to test out compliant color combinations for their web design, and an accessibility statement generator, which helps you meet the requirements of the Australian Disability Discrimination Act 1992 by producing a public statement declaring your commitment to web accessibility.
The information in this article is made available by Monsido ApS and/or its subsidiaries and affiliates and is for informational purposes only so as to provide its customers with a general understanding of current legal developments. It should not be construed as providing specific legal advice, and you acknowledge that no attorney/client relationship exists between you or any third party and Monsido ApS and/or its subsidiaries and affiliates. This article should not be used as a substitute for competent legal advice from a licensed lawyer in your jurisdiction.
Want More Information on Accessibility?
Get the datasheet to learn more about the product and how you can benefit from it.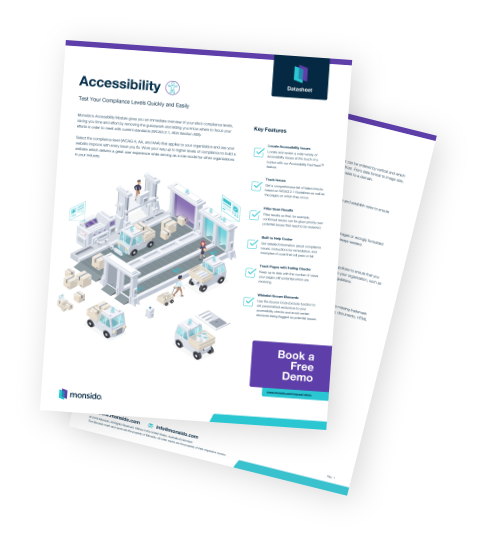 Make Your Website Better With Monsido
Find out how Monsido's tools can make your website optimization process efficient and effective.