Accessibility for Ontarians with Disabilities Act (AODA)
The Accessibility for Ontarians with Disabilities Act (AODA) is enforced in Ontario to identify, remove, and prevent barriers for people with disabilities.
What is the Accessibility for Ontarians with Disabilities Act (AODA)
The
Accessibility for Ontarians with Disabilities Act (AODA)
is an act that is enforced in the Canadian province of Ontario to identify, remove, and prevent barriers for people with disabilities. The Act was enforced in 2005 and aims to achieve accessibility in Ontario in regards to goods, services, facilities, accommodations, employment, buildings, structures, and premises by January 1, 2025. The Act applies to government, private businesses, nonprofits, and public sector organizations.
What is a disability according to the AODA?
The AODA refers to the definition of disability from the Ontario Human Rights Code which includes:
Blindness or visual impairments
Deafness or hearing impairments
Muteness or speech impediments
Physical impairments such as paralysis, mobility issues, etc.
Neurological disabilities for example epilepsy or as a result of brain injury, etc.
Mental impairments or developmental disabilities
Intellectual or learning impairments
Mental disorders
How does AODA relate to website compliance?
The AODA sets out a legislative framework to develop, implement, and enforce five standards for accessibility compliance for organizations. The five standards are:
Customer Service Standard
Information and Communication Standard
Employment Standard
Transportation Standard
Design of Public Spaces Standard
Web accessibility falls under the Information and Communication Standard. The Information and Communications Standards cover rules and requirements on how information is made accessible to people with disabilities, which includes accessible web content.
Who has to comply with the AODA?
Under the Information and Communications Standards of the AODA, all Ontario public sector organizations, and all large private sector organizations with 50 or more employees that provide goods, services, or facilities, employees people in Ontario, offers accommodation, owns or occupies a building or premises, and plays a part in local business or activity, must make their websites accessible by 2021.
What web accessibility standards does AODA use?
Under the Information and Communications Standard, all web content must comply with the Web Content Accessibility Guidelines (WCAG) 2.1, level AA, and subsequent WCAG versions that follow it.
As part of AODA compliance, organizations must align their websites to the accessibility principles outlined in the WCAG 2.1. The four main guiding principles of accessibility in WCAG 2.0 are Perceivable, Operable, Understandable, and Robust, also known as POUR, can be broken down as follows:
Perceivable
Provide text alternatives to non-text content such as images, videos, slides, podcasts, etc., so that they can be converted into other accessible formats using assistive technologies.
Provide alternatives for any time-based media.
Ensure that content created can be displayed in different ways (such as being magnified, or displayed on another mobile device, without it losing context or information.
Provide good color contrast between images and text against backgrounds.
Provide an option for audio control, such as pause or volume controls.
Operable
Ensure that all functionality of your web content can be accessed using just a keyboard.
With content that changes after a period of time, ensure that users have either enough time to read the content or offer options to control content change (like a pause button on an automatic carousel).
Avoid content with images, animations, or videos that flash more than three times per second as this can induce seizures in some people.
Ensure that your website has a well-designed and intuitive navigation and page structure, with well-defined headings, text sections, links, etc.
Understandable
Ensure that text is readable and understandable by both your target users and the assistive technology they may use.
Ensure that your web pages appear and operate in a predictable manner, for example where elements like menu bars and colors are consistent across all pages.
Help people with disabilities avoid mistakes on your site by providing clear instructions or labels, suggestions on how to fix mistakes, notifications, as well as access to helpful information and a contact form.
Robust
Ensure that your website is compatible with current user agents, such as assistive technologies and tools, as well as ensuring that it is capable of extending that functionality to future user agents.
Organizations will also have to file an accessibility report to confirm that their organization has remained compliant to the AODA's accessibility requirements. Businesses and non-profits must file a report every three years and public sector organizations must file one every two years. The next deadline for the accessibility report is June 30, 2021. 
This blog
will provide more information on this deadline and how to file the report. Organizations will also have to supply the following compliance requirements for web accessibility:
provide training to staff and volunteers.
develop an accessibility policy.
create a multi-year accessibility plan and update it every five years.
What are the AODA compliance deadlines?
January 1, 2014: All new internet websites and web content must conform with WCAG 2.0 level A.

January 1, 2021: All internet websites and web content must conform with WCAG 2.0 level AA, except for criteria 1.2.3 (live captions) and 1.2.5 (pre-recorded audio descriptions).

June 30, 2021: Private or non-profit businesses with twenty to forty-nine (20-49) workers, or fifty (50) or more workers, must complete an accessibility report. This deadline was extended from December 31st, 2020.
What happens when you fail to comply with AODA?
Failure to comply with the AODA can result in monetary penalties. The penalties are as follows:
CA$50,000 for every day that the offense occurs
For corporations, CA$100,000 for every day the offense occurs
For directors or officers of a corporation that have failed to comply, CA$50,000 for every day the offense occurs.
How Monsido can help your website comply with the AODA?
Monsido's Web Accessibility Module
audits your entire site for accessibility against the WCAG 2.1 (and any subsequent updates to the guidelines).
Each audit scans your site for machine-testable issues, provides detailed reports so you can review any errors that may arise, gives you targeted recommendations on how to address these errors based on the guidelines, and shows you your compliance based on levels A, AA, and AAA. You can track and prove your accessibility compliance progress via reports in the History Center. We also offer accessibility training to customers and support, all-inclusive, to ensure that you are well-versed in both automated and manual remediation methods, and are able to efficiently and consistently improve your website's accessibility.
Monsido also offers free tools to complement your web accessibility efforts, including a color contrast checker for web teams to test out compliant color combinations for their web design, and an accessibility statement generator, which helps you generate a public statement declaring your commitment to web accessibility and is helpful in making your web accessibility policy transparent to all your users.
The information in this article is made available by Monsido ApS and/or its subsidiaries and affiliates and is for informational purposes only so as to provide its customers with a general understanding of current legal developments. It should not be construed as providing specific legal advice, and you acknowledge that no attorney/client relationship exists between you or any third party and Monsido ApS and/or its subsidiaries and affiliates. This article should not be used as a substitute for competent legal advice from a licensed lawyer in your jurisdiction.
Want More Information on Accessibility?
Get the datasheet to learn more about the product and how you can benefit from it.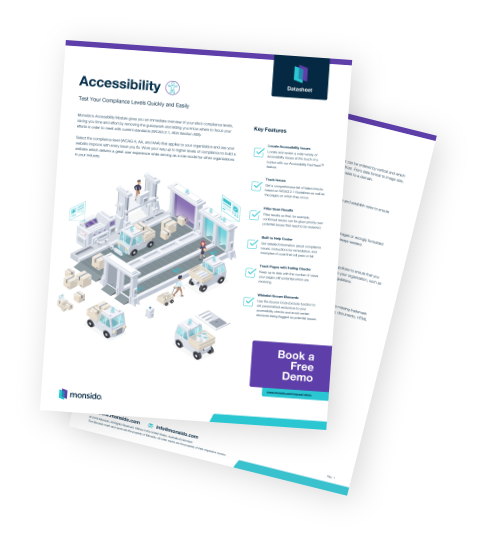 Make Your Website Better With Monsido
Find out how Monsido's tools can make your website optimization process efficient and effective.