Title III of the Americans with Disabilities Act (ADA)
Get an overview of what ADA compliance means in terms of web accessibility and learn the steps you need to become compliant.
What is the ADA and how does it relate to websites?
The
Americans with Disabilities Act
, or ADA, was passed on July 26th, 1990, and covers the equal and fair treatment of people with disabilities. The Act secures the equal rights of people with disabilities in five fields: Employment; State and Local Government; Public Accommodations; Telecommunication and Miscellaneous Provisions. These are usually referred to as Title I, II, III, IV, and V of the ADA.
Web accessibility falls under Title III of the ADA. Title III states that all areas of public accommodation (hotels, schools, restaurants, gyms, retailers, libraries, doctors, etc.) must secure equal access to information and services for all users. While it was originally meant to cover physical access barriers, new lawsuits under the act have prompted the
Department of Justice
(DOJ) to expand the definition of areas of public accommodation to include websites and online applications. This means that websites are considered places of public accommodation and that any barriers to access on the website are in violation of this law.
But web accessibility has not always been a new thing under the ADA. State and local government websites have been subject to web accessibility under Title II of the ADA. A compliance toolkit for websites of public entities can be found on the
ada.gov website
.
Who has to comply with the ADA?
Namely, everyone with a website operating in the US. All websites that fall under the category of 'Public Accommodation' a.k.a businesses that are open to the general public will need to comply with Title III of the ADA.

Federal government websites, however, are subject to a different legislation: Section 508 of the Rehabilitation Act 1973
What web accessibility standards does Title III of the ADA use?
While the ADA does not have its own technical standards to define web accessibility compliance, the DOJ has used the global standard, the WCAG 2.0 level AA as reference. The many court cases that arose from lawsuits filed under Title III of the ADA have upheld WCAG 2.0, and subsequently, WCAG 2.1, as their benchmark for compliance standards.
The WCAG is considered a global standard for website accessibility, whose guidelines are often used as the basis for various international legislations. The WCAG has three levels of compliance, A, AA, and AAA, with A being the easiest level to comply with by addressing basic and urgent functionality issues, and AAA being the most difficult, where a lot of technical fine-tuning is involved. As mentioned above, the DOJ has referenced the WCAG 2.1 AA requirements in lawsuits, but while it is recognized, it is still not yet set as the hard and fast ADA standard. Until the ADA either adopts the WCAG 2.1 or develops its own standards, demand letters, lawsuits, and the DOJ will continue to reference the WCAG 2.1.
How to comply with the ADA
Because WCAG 2.1 is backward compatible, compliance with it also means you are compliant with the older versions. As WCAG level AAA will be close to unattainable, aspiring for Level AA compliance is considered the best option for most businesses and organizations.
The first step to take before anything else is to audit the current accessibility level of your site to see where you stand, From there, you can develop a sustainable strategy for implementing and maintaining web accessibility.
Blog:
How to avoid a web accessibility lawsuit
What happens when you fail to comply with Title III of the ADA?
Failure to comply with Title III of the ADA can receive
civil penalties
of up to $75,000 for the first offense and $150,000 for subsequent violations. Further costs can be incurred from court fees, attorney fees, and the following cost of remediating the website for accessibility.
In 2019,
2,256 lawsuits
were filed in federal court by persons with disabilities based on web accessibility barriers. In 2020 however, digital accessibility lawsuits rose to over
3,500 cases
! In fact, 2020 saw almost 10 lawsuits filed every business day in the United States. The year also saw web accessibility extending to other digital experiences such as video accessibility, mobile apps, combined website and app, and mobile websites.
Blog:
What to do if you receive an ADA demand letter?
ADA website compliance principles
To comply with the ADA, there are some basic WCAG principles that you should cover on your website. These principles are known as POUR - Perceivable, Operable, Understandable, and Robust:
Perceivable
Elements that convey information or components of a website's user interface must be presented in a way that users are able to find, process and understand.

Operable
All functionality and navigation on website should be usable.
Understandable
Information and the operation of the user interface must be clear understandable to users of all abilities.
Robust
The website should be capable of adapting and developing itself to support a variety of current and potentially future user agents, including assistive technologies.
ADA compliance checklist according to the POUR principles:
Provide text alternatives to non-text content such as images, videos, slides, podcasts, etc., so that they can be converted into other accessible formats using assistive technologies such as screen readers.

Provide alternatives for any time-based media.

Ensure that content created can be displayed in different ways (such as being magnified, or displayed on another mobile device, without it losing context or information.

Provide good color contrast between images and text against backgrounds.

Provide an option for audio control, such as pause or volume controls.

Ensure that all functionality of your web content can be accessed using just a keyboard.

With content that changes after a period of time, ensure that users have either enough time to read the content or offer options to control content change (like a pause button on an automatic carousel).

Avoid content with images, animations, or videos that flash more than three times per second as this can induce seizures in some people.

Ensure that your website has a well-designed and intuitive navigation and page structure, with well-defined headings, text sections, links, etc.

Ensure that text is readable and understandable by both your target users and the assistive technology they may use.

Ensure that your web pages appear and operate in a predictable manner, for example where elements like menu bars and colors are consistent across all pages.

Help people with disabilities avoid mistakes on your site by providing clear instructions or labels, suggestions on how to fix mistakes, notifications, as well as access to helpful information and a contact form.

Ensure that your website is compatible with current user agents, such as assistive technologies and tools, as well as ensuring that it is capable of extending that functionality to future user agents.
Extra reading:
How to avoid a web accessibility lawsuit
How Monsido can help your website comply with the ADA?
Monsido's Web Accessibility Module
can help you make your website more accessible by auditing your entire site for accessibility against the WCAG 2.1 (and any subsequent updates to the guidelines).
Each audit scans your site for machine-testable issues, provides detailed reports so you can review any errors that may arise, gives you targeted recommendations on how to address these errors based on the guidelines, and shows you your compliance based on WCAG 2.1 levels A, AA, and AAA. You can track and prove your accessibility compliance progress via reports in the History Center. We also offer accessibility training to customers and support, all-inclusive, to ensure that you are well-versed in both automated and manual remediation methods, and are able to efficiently and consistently improve your website's accessibility.
Monsido also offers free tools to complement your web accessibility efforts, including a color contrast checker for web teams to test out compliant color combinations for their web design, and an accessibility statement generator, which helps you generate a public statement declaring your commitment to web accessibility and is helpful in making your web accessibility policy transparent to all your users.
The information in this article is made available by Monsido ApS and/or its subsidiaries and affiliates and is for informational purposes only so as to provide its customers with a general understanding of current legal developments. It should not be construed as providing specific legal advice, and you acknowledge that no attorney/client relationship exists between you or any third party and Monsido ApS and/or its subsidiaries and affiliates. This article should not be used as a substitute for competent legal advice from a licensed lawyer in your jurisdiction.
Want More Information on Accessibility?
Get the datasheet to learn more about the product and how you can benefit from it.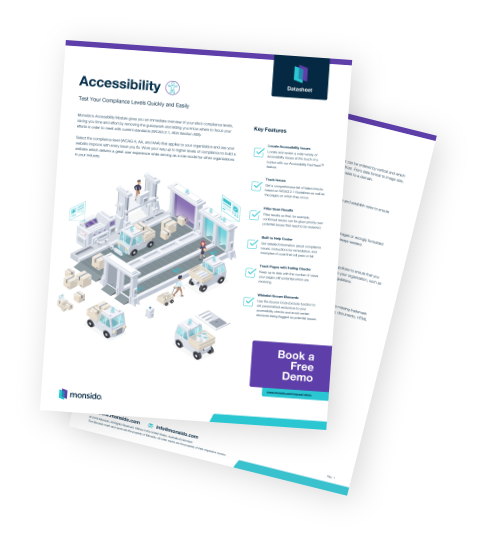 Make Your Website Better With Monsido
Find out how Monsido's tools can make your website optimization process efficient and effective.