Celebrate #GAAD With Monsido
Thursday, May 19, 2022, is Global Accessibility Awareness Day (GAAD)! Let's shine a light on digital inclusivity and encourage equal access to websites for everyone. Join Monsido for a day of educational and inspirational webinars!
Learn The Basics of Web Accessibility
Get a comprehensive overview of the basics of web accessibility with our essential accessibility handbook.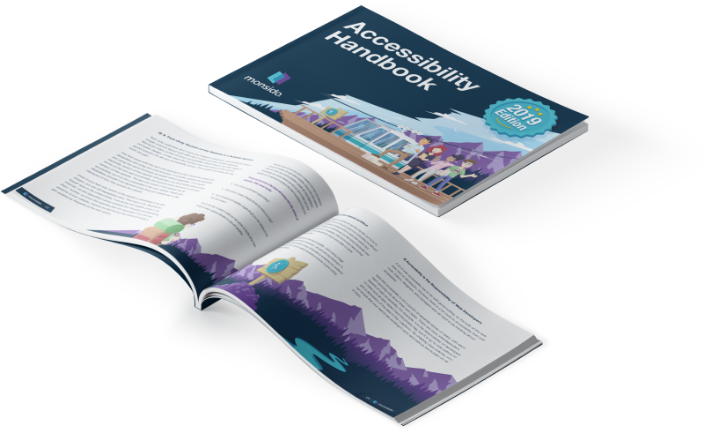 More About Compliance & Legislation
Learn more about global web accessibility standards and corresponding legislation.
The Web Content Accessibility Guidelines (WCAG) is the international accessibility standard established by the World Wide Web Consortium (W3C)
Under Title III of the Americans with Disabilities Act, all areas of public accommodation, including websites, must be accessible for all users.
Section 508 of the Rehabilitation Act of 1973 requires federal agencies in the United States to ensure that their electronic and information technology is accessible.
The Accessibility for Ontarians with Disabilities Act (AODA) is enforced in Ontario to identify, remove, and prevent barriers for people with disabilities.
EU Web Accessibility Directive
The EU published the EU Web Accessibility Directive to standardize and harmonize the framework around the web and mobile accessibility of public sector organizations.
The European Accessibility Act (EAA) is an EU directive that requires EU member states to legislate on accessibility both on and offline, providing a framework of common accessibility rules for the market.
The Australian Disability Discrimination Act 1992 (DDA) protects people with disabilities against discrimination across different areas of public life, including the provision of information and online services through the web.
Trusted by Thousands of Companies Across the Globe
Make Your Website Accessible With Monsido
Find out how Monsido's tools can make your website accessible and inclusive to all, and comply with WCAG 2.1.