In early 2020, the Accessibility Guidelines Working Group (AG WG) announced the First Public working draft of the Web Content Accessibility Guidelines (WCAG) 2.2. This working draft covers the potential success criteria that were considered during the development of WCAG 2.1 but were not published due to the need for more time to develop the criteria, and because it required other specifications to mature before being introduced. 
W3C has recently announced that WCAG 2.2 is scheduled to be completed and published in Q3 2023. The new standards have been postponed multiple times, and the timeline for implementation might change again. The content for WCAG 2.2 has been finalized and WCAG 2.2 W3C Candidate Recommendation Snapshot was approved for publication in January 2023. However, the Editors' Draft of WCAG 2.2 may include more recent proposed changes that are not all approved yet. 
The main objective of "Candidate Recommendation" is to make sure that the standard can be implemented. According to W3C, this version is stable at this stage, but it could change after the implementation insights. In particular, the section 2.4.11 Focus Appearance might not be included in the final publication. The next implementation stage focuses on implementations and collecting comments, and was scheduled to be completed by 4 October 2022.

The new WCAG 2.2 success criteria are not technology-specific, but are rather written as testable statements. 
WCAG 2.2 Conformance Levels
The WCAG 2.2 is based on the same three conformance levels as the previous versions: Level A, AA, and AAA.
Level A: The lowest level of conformance and the easiest to achieve. It allows for websites to be broadly accessible as it addresses the most basic access issues.
Level AA: AA is most often used as the standard for legislation like the
Accessibility for Ontarians Act (AODA)
and
Section 508
.
Level AAA: The highest level of conformance and the most difficult to achieve. It is not often used as a recommendation since it is not feasible for most websites to have the resources to meet this level.
Who do WCAG 2.2 guidelines support?
Each new success criterion introduced in the WCAG 2.2 is intended to improve digital accessibility. The updated guidelines will ensure better inclusivity for a wider range of people with disabilities, and will include accommodations for blindness and low vision, deafness and hearing loss, limited movement, speech disabilities, photosensitivity, and combinations of these, as well as accommodations for those with learning disabilities and cognitive limitations.
Comparison between the previous WCAG versions
WCAG 2.0 AA contains 38 success criteria
WCAG 2.1 AA has 50 (38 + 12 new success criteria)
WCAG 2.2 AA will have 59 (50 + 9 new success criteria)
New WCAG 2.2 Success Criteria
The latest working draft of the WCAG 2.2 was released in May 2021 and outlines nine new success criteria and one updated success criteria. The new Success Criteria defined in WCAG 2.2 are detailed below.
To avoid confusion in the numbering and reference, these new success criteria have been appended to the end of the success criteria in previous guidelines rather than in between existing criteria. This removes the need to change section numbers to accommodate them.

However, this new numbering system also means that the success criteria in each guideline are no longer grouped by conformance level. Website authors can refer to the conformance level (A, AA, and AAA) via the conformance level indicator listed on each success criterion.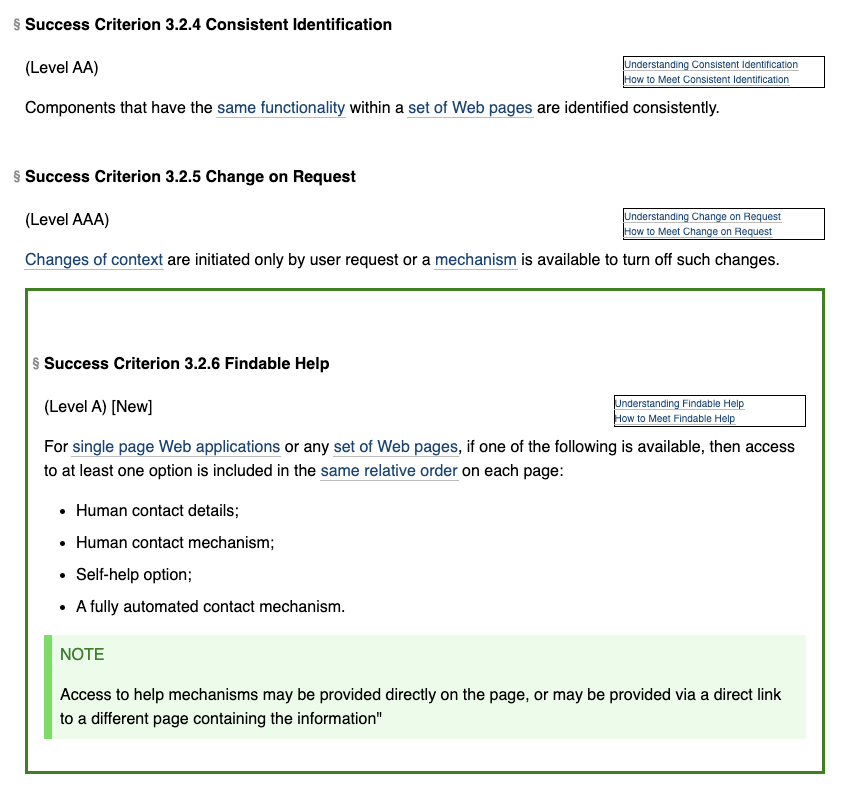 Alongside the nine new success criteria above, the criteria 2.4.7 Focus Visible is updated from level AA to A.
When will WCAG 2.2 be published?
WCAG 2.2 is a working draft and is currently in wide review, with the AG WG reviewing any comments received. It is not the final recommendation. The official release is scheduled to be completed and published by early 2023.
How will the revisions affect my current WCAG compliance?
WCAG 2.2 is built upon the work started in WCAG 2.1 that was inherited from WCAG 2.0. The guidelines are focused on accessibility for users with cognitive or learning disabilities, users with low vision, and users with disabilities on mobile devices. The WCAG 2.2 is thus backwards compatible with WCAG 2.1 and 2.0. It is also expected that any accessibility legislation that references WCAG 2.0 or 2.1 will eventually refer to 2.2. This means that websites that are required to conform with either WCAG 2.1 or 2.0 will be able to update their content to WCAG 2.2 standards without affecting their conformance.
Checklist: How to meet the new WCAG 2.2 success criteria
3.3.7 (Level A) Accessible Authentication
If an authentication process relies on a cognitive function test, that requires the user to remember, manipulate, or transcribe information (think CAPTCHA, math equations, or answering logic puzzles), you should provide an alternative to the authentication method that does not utilize cognitive function tests, like two-factor authentication.
2.5.7 (Level AA) Dragging
Any functionality that requires a dragging movement by a pointer (cursor, finger on a touch screen, etc.), such as adjusting a slider button, a carousel, etc., should be operable in other ways like clicking unless the dragging action is absolutely essential to the functionality of the content.
3.2.6 (Level A) Findable Help
Help options such as a Contact Us page, chatbots, FAQs, messaging applications, help centers, or other support options, should be findable and be in a consistent location on every page.
2.4.13 (Level A) Fixed Reference Points
If you have an electronic publication on your website with pagebreak locators (page numbering), make sure that there is a mechanism in place to navigate between each page and that the numbering maintains its place even when the platform where the publication is hosted changes or it is printed.
2.4.11 (Level AA) Focus Appearance (Minimum)
Ensure that the keyboard focus indicators of user interface component (menus, links, forms, etc.) have a clear border, are not obscured by other content, and have a
color contrast
ratio of at least 3:1 against the unfocused state and all adjacent colors.
2.4.12 (Level AAA) Focus Appearance (Enhanced)
Similar to the Criterion 2.4.11, ensure that the keyboard focus indicators of user interface components have a clear border, are not obscured by other content, and have a
color contrast
ratio of at least 4:5:1 against the unfocused state and all adjacent colors.
3.2.7 (Level AA) Hidden Controls
Controls, such as buttons, that are vital to a process need to be visible and accessible when needed and not require an action like a pointer hover or keyboard focus to make them/keep them visible.
2.5.8 (Level AA) Pointer Target Spacing
Every target, such as links, must have a hit-area of at least 44x44 CSS pixels to make it easier for users to select it with a pointer (clicking with a cursor, selecting with a touch-screen, etc.).
3.3.8 (Level A) Redundant Entry
When completing a process like filling in a form online, the information that was previously entered by the user must be auto-filled or available as a selection, unless the process involves a security verification.
Monsido is committed to staying at the forefront of accessibility testing, aligning our solution with all iterations of the WCAG 2.2. 

Editor's note: As of October 14th, 2021, the Monsido Platform now supports testing with the latest WCAG 2.2 criteria.