Website Accessibility Compliance: What it Looks Like Today and What's to Come
Why is web accessibility important? How does it affect your business? Who is enforcing web accessibility compliance today? 
You may have seen that there has been a large focus on digital inclusion since the internet has taken off as a space that is no longer accessed by just a few, but by everyone. This cultural shift has made the need for websites to be accessible more prevalent than ever before.  
There are many reasons why web accessibility compliance is important beyond the legal enforcements, which are in reality just a tiny aspect of a far larger story. One of these reasons  is that it fundamentally aims to ensure that people with disabilities, as well as other demographics that benefit from accessibility-friendly content (such as the aging population!) can access the information on your website. 
So beyond just the legal aspect, making your website accessible is not only the right thing to do, but it also builds trust in your business when people can confidently navigate your site. 
With this push for digital inclusion we are seeing an increase in lawsuits filed against websites that fail to comply with the Web Content Accessibility Guidelines (WCAG).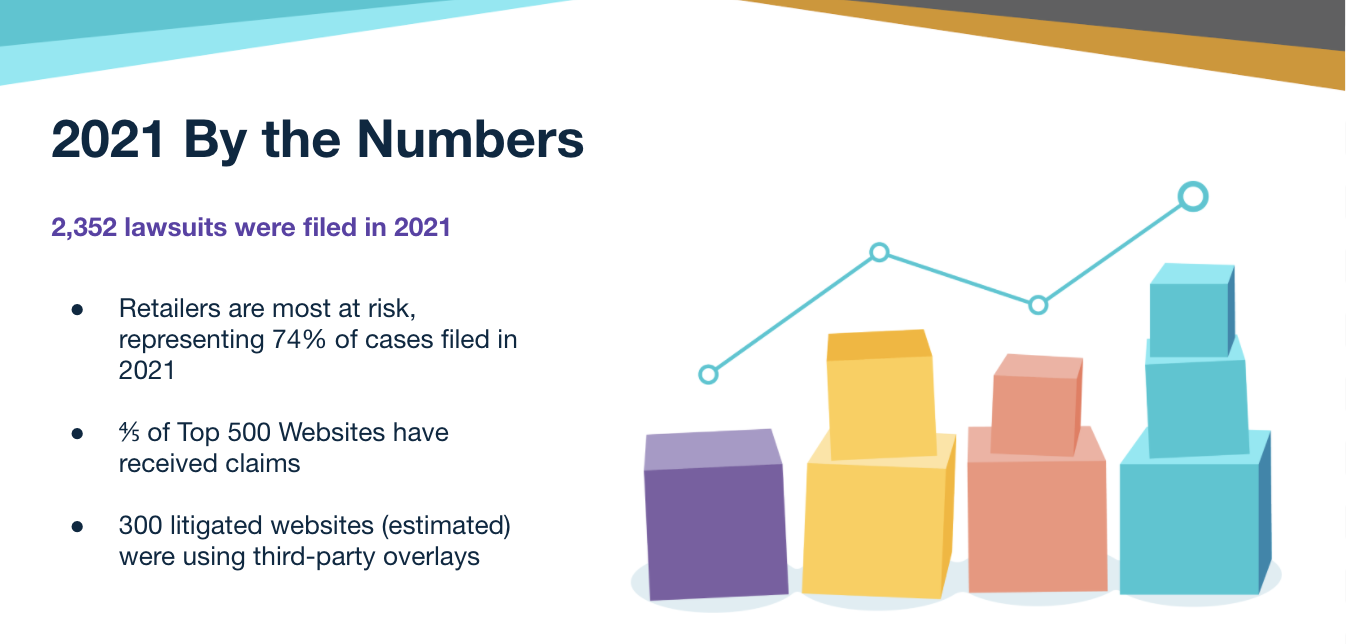 ADA Compliance and Regulations
The Americans with Disabilities Act of 1990 prohibits discrimination on the "basis of disability in the activities of public accommodations". While the traditional focus was on physical accessibility the focus is now on digital accessibility. Electric information and technology need to be able to be accessible to people with disabilities. ADA compliance is a civil law that mandates that all areas of public life be accessible for those with disabilities including the internet.

This is not to be confused with section 508 of the rehabilitation act which is only applicable to federal entities. Both section 504 and 508 work hand in hand with the WCAG guidelines.
Changes to Watch
This year we have already seen organizations stand up and take a stance on web accessibility compliance. For example, the Department of Justice released an official stance on ADA Title III stating that businesses no matter the size need to have all public-facing websites accessible to persons with disabilities.

We saw a similar circumstance when the International Association of Accessibility Professionals (IAAP) released its official stance on overlays. In essence, the statement confirmed saying that they are no longer sufficient to meet accessibility requirements. In many respects the statement can be seen as being a response to the accessibility complaints received by many businesses who have relied on third party overlays to achieve web accessibility compliance.

If you are a business that sells products or services to European countries, it's also worth noting that you will want to watch out for updated requirements from the WCAG under the European Accessibility Act.
Settlement Considerations
90% of cases settle, which is the case for most litigations, but the price of settlements can be harmful to your business. Settlement ranges are around $25,000 for midsize businesses served with web accessibility lawsuits. While also considering things like plaintiffs' counsel's legal fees and insurance considerations, things can quickly rack up and be harmful to your business.

Something to also consider that can be harmful is your business's reputation with a client or the public. Can you imagine the reputational damage of litigating against a disabled plaintiff, for example? A part of any successful business strategy therefore should be accepting a moral obligation to meet the needs of all your website visitors.
Non Monetary Settlement Considerations
Non-Monetary Settlements often get overlooked but are vital to consider when taking a look into how these litigations ultimately play out. Things that your business should consider are the things that make sure that you are complying with the WCAG's latest guidelines. Oftentimes websites will publish an accessibility statement online showing that they are actively working on website accessibility and take it seriously.

In addition, it can be very helpful to budget for an automation tool that will help maintain compliance while updating content and making changes to your website.

In order to comply with web accessibility it will take a group effort from your organization and with that comes the need to have your staff and developers trained on it. Most websites thrive off of updated content in order to keep visitors coming back or because they serve as a place for exchanging information. In cases such as this, there comes a need to have a remediation tool in place, ideally with the design being considered first because undoubtedly your website will need to be compliant.