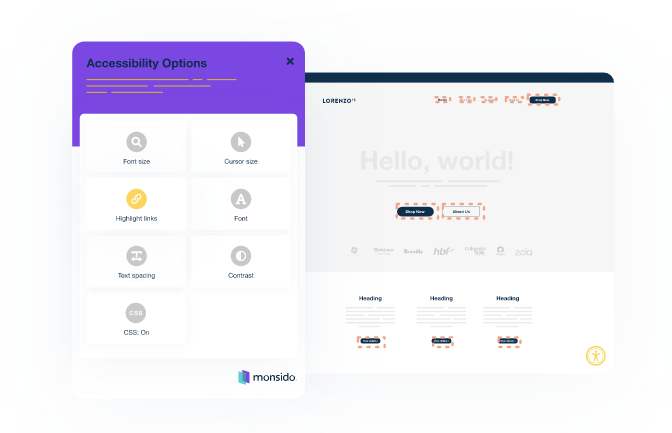 We've made some exciting updates to our PageAssist™ tool so that you can now give your visitors even more control over the way they experience your website.

As different people have different abilities and preferences, it follows that not everyone can get the most out of your website in its standard form. Allowing your visitors to control the way they consume your website's content helps ensure that you are catering to their individual needs and accessibility requirements.

Unlike the previous version of PageAssist, the new and improved tool doesn't work as an overlay, but rather makes actual changes to your web page in real-time in order to make it instantly more usable and visually accessible.

Each tool in PageAssist can be toggled individually or in concert with others, giving your visitors full control over their digital experience.

Let your visitors customize colors, fonts, font size, cursor size, text spacing, default contrast, formatting, and more, making it easier than ever before for them to consume your website's content.
The new and improved PageAssist tool:

Can Be Tailored to Reflect Your Organizations Branding

Customize the look, color, and position of the PageAssist widget to suit your organization's unique website design and brand style and add your own logo.

Supports Multiple Languages

Set the default language and which languages are supported.

Removes Visual Accessibility Errors

Ensure an equal experience for all of your visitors by fixing inaccessible images and visuals.

Makes Website Navigation Easier

Allow your visitors to parse on-page navigation, change color scheme, font, font size, and more.

Gives Your Visitors More Control Over Their Experience

Visitors can use PageAssist to turn off animations, hide images, and highlight elements like headings, links, and buttons.
Speak with your Customer Success Manager to get more information about a PageAssist add-on subscription.
Already have PageAssist? Great news - the new and improved version is already available to you at no extra charge and installation is quick and easy! Read more here.