The shift to remote work has increased the need for online collaboration tools such as workflow managers, online list platforms, and project management software. By now, you've likely heard of Asana, Trello, and Monday project management tools. Using Monsido alongside these online collaboration tools has a synergistic effect. Throughout COVID-19, our customers have shared with us that they use online collaboration tools to make sure that Monsido is part of their greater project of work.

Monsido simplifies finding and addressing content, web accessibility, and performance errors across your website; consolidates marketing and digital tools; and increases accountability through groupings, visibility, and delegation of tasks. Online collaboration tools help break down projects into tasks, assign tasks to users, add due dates, and more.
How the Monsido marketing team uses Asana to manage Monsido tasks
As a Marketing team, we've also integrated our website maintenance routine (using the Monsido platform of course) into Asana. We think that having these Monsido platform tasks visible in our greater 'To Do' lists helps us prioritize these tasks and makes sure we integrate them into our daily and weekly workflow. As we are mostly working remotely, Asana helps us organize our tasks and stay on top of these web governance tasks.

Here's an example of how you can integrate Monsido tasks into Asana (this board is a modified copy, based on how the Monsido Marketing team uses Monsido):
Monsido Marketing on Asana.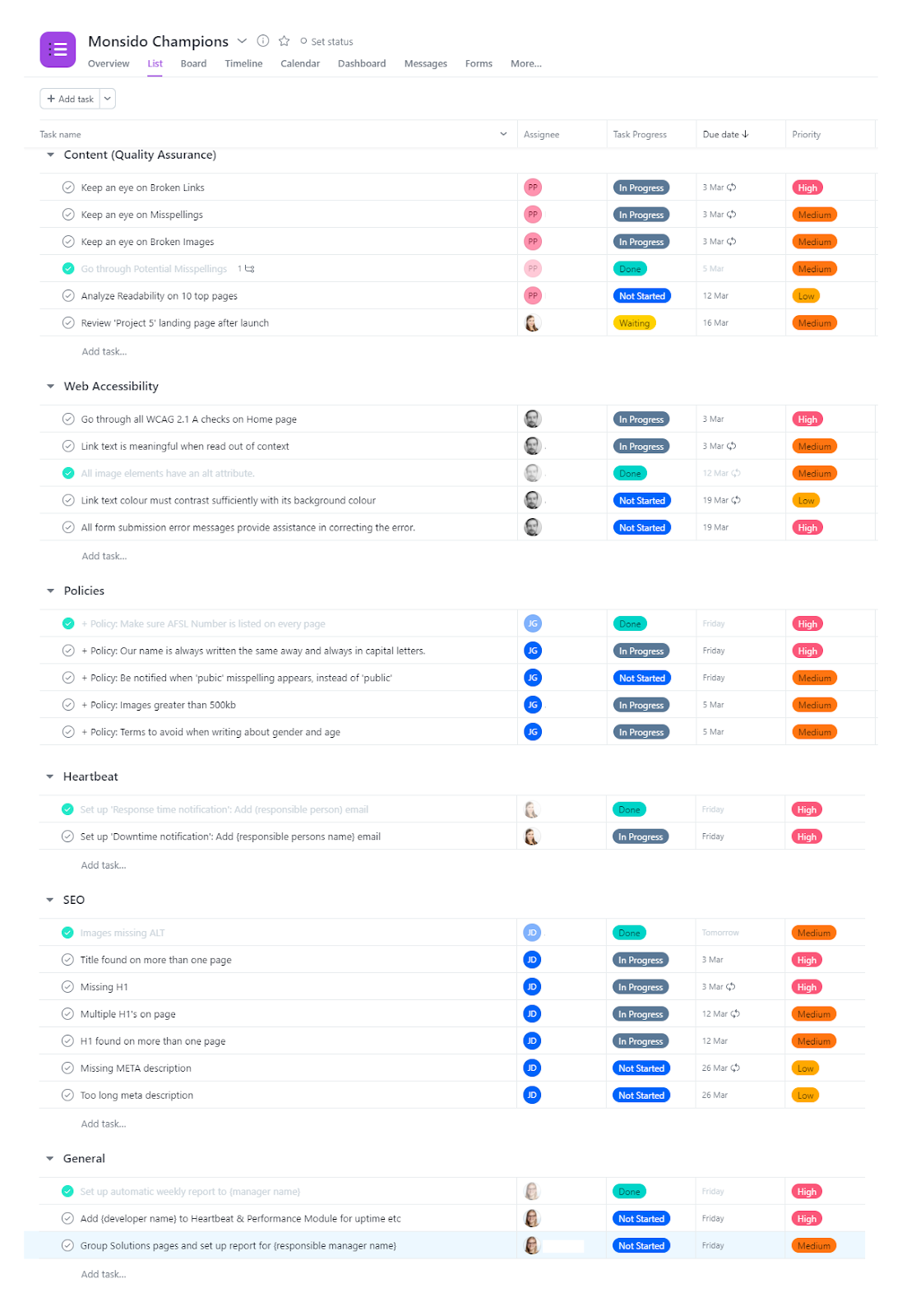 Image: Screenshot of our 'Monsido Champions' Asana project board which is a good example of how Monsido can be used in Asana. We break down our tasks in the Content, Web Accessibility, Policies, Heartbeat, SEO, and General sections. We set up columns for Task Name, Assignee (Owner), Task Progress, Due Date, and Priority.
How our Marketing Director uses Asana
"We believe in drinking our own champagne at Monsido, meaning it's important we are deep in our product every day. Asana helps me keep an overview of how my team is managing their priorities within the use of our platform. With our Product team also using Asana, it's super easy to move any identified improvement requests into the product roadmap." - Jillian Als, Marketing Director
How our Content Marketer uses Asana
Our content champion, Prema, will get weekly reminders to check for content policy violations, which pop up in 'My Tasks'. This helps her integrate Monsido into her day-to-day workflow.

"Asana is a great way for us to keep track of the different policies for brand, style and content guidelines from the Monsido platform. Besides the weekly reminders to check for violations, others can also assign new policies for me to review and I can schedule tasks for upcoming changes like regulation updates that require a future review of all website content. For example, when the Accessibility for Ontarians with Disabilities Act (AODA) changed its deadline for compliance reports from December 31, 2020, to June 30, 2021, I scheduled a Policy task on Asana on the date to scan the website for mentions of the old date and remove them." - Prema Puganenthran, Content Marketing Specialist

How our Field Marketer uses Asana
Our field marketer, Jasmine, is in charge of maintaining our content quality assurance, including broken links, misspellings, and broken images. Similar to Prema, Jasmine relies on the weekly reminder from Asana to log in and correct any identified errors. When new content sections are launched on the website, Jasmine asks that the content owner to add a task for her so that she can double-check the content is error-free upon launch.
How our Digital Marketer uses Asana
"Asana is straightforward to use, intuitive, and helps me manage my daily tasks as well as bigger projects like SEO management that involve other team members. Being able to create tasks, subtasks, upload files and add different deadlines allows me to work in a more organized and efficient way. As an example, when auditing the website's meta descriptions to follow the new SEO standards I was able to assign subtasks to our online copywriter." - Jersande Dano, Digital Marketing Specialist
How our Technical Writer & Accessibility Champion uses Asana
"Asana allows me to easily keep track of various parallel Monsido Accessibility module tasks at the touch of a button and to keep an up to date overview of their status. Asana has been particularly helpful for organizing and prioritizing tasks that involve other stakeholders, teams and collaborators, as it makes task planning, assignment, and tracking so easy to manage. Asana has had a particularly positive impact on the way our Development team use our Accessibility module, as I am able to communicate with them about task details directly on Asana and set a priority level and due date for completion in moments.'' -
Alasdair Nolan, Technical Content Writer
Want to see what content quality assurance, web accessibility, and performance errors Monsido picked up on your website?
Get a free website scan.