If you have an audience which widely suffers from disability (such as if you are an ophthalmic surgeon and many visitors are visually impaired), then it obviously makes sense to focus on
web accessibility
. Yet, what many website owners don't realize is that
improving web accessibility can benefit your website in numerous ways.
Here are the 4 big reasons you should improve web accessibility.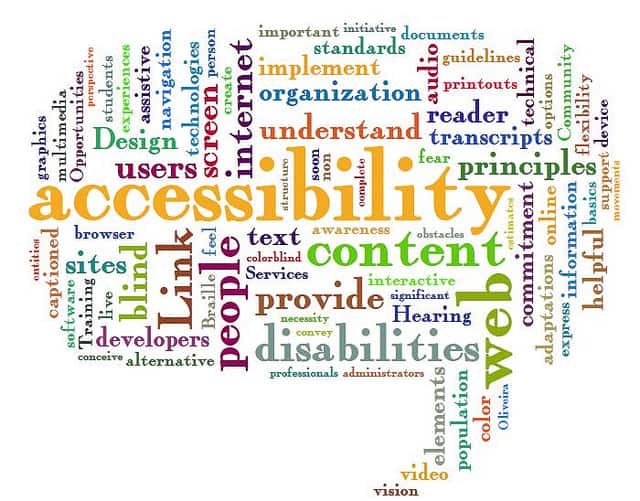 Web Accessibility Increases Audience
An estimated 15% of the world's population has some form of disability. There are also temporary disabilities, such as if a person were to break his/her fingers or arm. As the world population lives longer and gets older, we are likely to see more age-related disabilities such as vision impairment.

Do you really want to shut yourself off from 15% of potential website visitors?

Unfortunately, only a very small percentage of websites are accessible by people with disabilities. If you take the step to make your website accessible, you might find yourself with a big edge over the competition. As W3.org points out, people with disabilities are particularly likely to be loyal customers of websites that work well for them, and word-of-mouth marketing can be significant among these groups.
Depending on the nature of your website, you may be legally required to comply with
web accessibility
standards. Several nations (including Canada, EU, and UK) currently have web accessibility laws. It is likely that we will see more countries adopt such accessibility laws, especially for websites in the public sector.
Not complying with these web accessibility laws could cost you. In June 2017, a blind man sued the American supermarket chain, Winn-Dixie and won because the committee had failed to make their website accessible to blind users. In 2016, Target paid $6 million in damages to the National Federation of the Blind for failing to put ALT text on their product images and other accessibility issues. Domino's Pizza has been in a widely publicized battle against an ADA lawsuit since 2016. These are just some of the legal cases involving web
accessibility issues
.
Web Accessibility Improves Website Quality
Following
web accessibility
standards won't just help people with disabilities, but makes your website more accessible for ALL users, and may have SEO benefits as well. For example:
Using ALT Text: ALT text helps visually-impaired users understand images, but it is also very important for SEO, people using Image Search, and for when images fail to render. Read more about ALT text here.
Simpler Website Designs: People with cognitive disabilities have trouble understanding complex web designs and navigation. But simpler website designs also can reduce bounce rate, improve conversions, and make mobile browsing easier for users.
Including Transcripts: Video and audio transcripts are important for people with hearing disabilities, but it is also good web practice to include transcripts for people who prefer to read or who may be in a situation where they cannot listen to audio (such as when using the web at a café or library without headphones).
Removing Flickering Content: People with seizures and neurological disorders can have serious problems with flickering content, such as automatic animations, and this type of content should be removed. Removing flickering content also is good practice for all users, as it is generally considered annoying and distracting.
Allowing More Time for Tasks: People with physical disabilities often require more time for tasks such as filling in forms, so you should allow more time before the page times-out. This is also good practice for all users and can improve conversion rates.
Including Multiple Contact Options: If your only method of contact is a phone number, this can be problematic for people with hearing disabilities. But it is also good practice to include multiple methods of contact, as studies show people prefer having options like phone, email, and Live Chat.
Building an Accessible Website is the Right
Thing to Do
For centuries, people with disabilities were pushed out of society and didn't have access to basic services. Even today, with many laws and regulations for accessibility, people with disabilities can still find themselves excluded from society and it can be difficult to participate in daily life. The web has opened many doors for people with disabilities.
Thanks to screen readers, blind people are now able to read newspapers. A quadriplegic, for whom going to a shopping mall can be a strenuous task, is now able to easily purchase a gift for a friend by shopping online. People who are unable to speak can still participate in debates and discussions in online forums, chat rooms, and communities.
Web accessibility is the moral thing to do. And, because it has so many other benefits for your website and overlaps with other website quality issues such as mobile design and SEO, there is no reason why you shouldn't improve accessibility to allow people with disabilities to take full advantage of what the web has to offer.
Learn more about how to improve your web accessibility here.
Image credit: "
web accessibility word cloud
" (
CC BY 2.0
) by
Jil Wright