As its name indicates, Page Experience, at least in Google's terms, refers to a set of signals that measure how users experience a website beyond the content on it. It includes Google's Core Web Vitals and existing search signals like mobile-friendliness, HTTPS security, and intrusive interstitial guidelines (i.e., avoiding the use of intrusive interstitial pop-ups, and providing a safe browsing environment)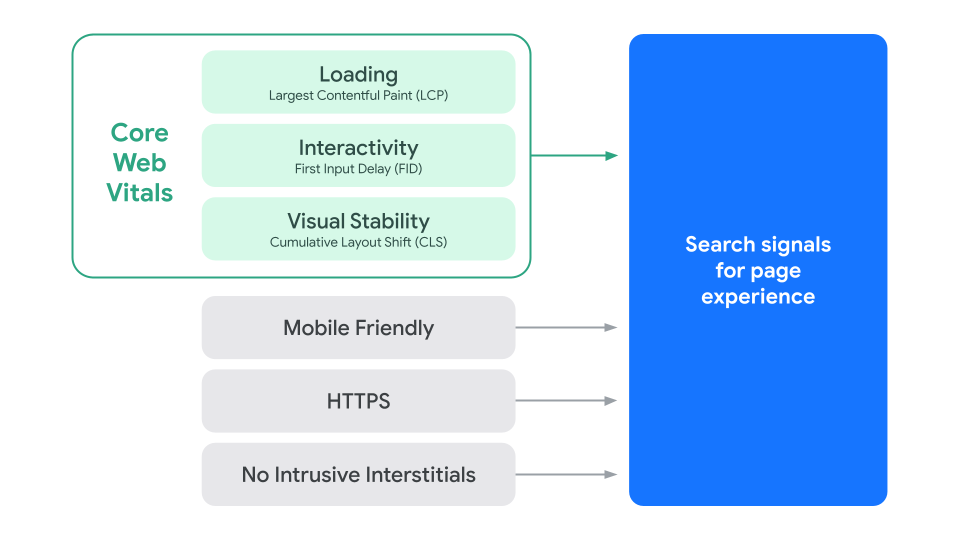 Google's Page Experience algorithm update prioritizes new website performance metrics that directly impact the user page experience. These metrics are called Google Core Web Vitals. While existing signals like mobile-friendliness, website security via use of https (SSL certificates), and no intrusive interstitials (e.g. pop ups) have been signals for some time, Core Web Vitals represents a new set of signals to consider for optimal search optimization. We'll dig into these in just a moment.
So what's new in page experience management?
Keeping on top of a good page experience has always been important. But how to master the best page performance looks different than it did just a few years ago. To keep bounce rate down, conversion rate up, and your search results where they deserve to be, it's critical to optimize across Google's new Core Web Vitals. These metrics aim to measure the quality of the page experience based on load speed, visual stability, and time to interactivity. Let's break it down a little.
Optimizing for Google's new Core Web Vitals
There are some big words used with Core Web Vitals but we hope to make the concepts a bit more digestible with our explanations below. That said, some of the recommendations for improving upon these metrics may require the help of your favorite developer.
Largest Contentful Paint (LCP) - Content Loading Performance
This metric represents the time/duration between the user initiating the page load and the page rendering its primary content. It is a way to measure how long it takes from when your visitors enter the website until there is something meaningful to read or look at.
First Input Delay (FID) - Interactivity
FID measures a page's load responsiveness and helps identify situations where a page looks interactive but actually isn't. In other words, this metric looks at how long it takes for your visitors to actually be able to interact with the site (e.g. click something).
Cumulative Layout Shift (CLS) - Visual Stability
This is the measurement of the movement of visible elements within the viewport. It measures how long it takes for your website not to have layout shifts (think of how sometimes you experience content that 'jumps' as it loads).

In our experience, developers love coffee and cake, so if you identify some issues holding you back across any of these Core Web Vitals, best to come with treats. But there's more than Core Web Vitals to consider.
Other Google Page Experience Search Signals
As the diagram above indicates, there are more signals than just Core Web Vitals when it comes to page experience and its signals to search engine rankings with Google. These aren't new but they're also not going away, so in case you need a recap, make sure you're also on top of these additional signals.
Mobile Friendliness
You're likely already familiar with the importance of the mobile experience for both your users and for search engines. It's alpha omega these days to ensure a good mobile experience and is why Google indexes mobile versions of sites before desktop versions.
HTTPS
Website security continues to be table stakes for websites. In simple terms, HTTPS just means your site is secured with a Secure Sockets Layer (SSL) certificate which establishes an encrypted link between a server and a client. If you use Chrome, look for the little lock signal in the URL address bar. If it's there it means the site is secure. SSL certificates are available for free via LetsEncrypt which is sponsored by a number of web technology companies including Google.
No Intrusive Interstitials
Intrusive Interstitials are what you likely would call popup ads. They are especially problematic on mobile devices when they block most or all of a page, leading to a frustrating user experience. The obvious exception to the rule here is if the popup is used for legal or compliance reasons (e.g. a cookie banner). Let's just assume people came to see the content on the page, not do something else right away.
Why should you invest in improving website performance?
Optimizing your page experience should be at the foundation of website maintenance and improvement efforts, as it is critical for keeping users on your site and engaging with your content whether it be to read it and/or ultimately convert.
You don't have to take our word for it. There is a ton of data on the correlation between load time and visitor retention and conversion:
The probability of bounce increases 32% as page load time goes from 1 second to 3 seconds. (Google)
Website conversion rates drop by an average of 4.42% with each additional second of load time (between seconds 0-5). (Portent)
Nearly 70% of consumers admit that page speed impacts their willingness to buy from an online retailer. (Unbounce)
The ultimate page experience is more than search signals
While Google's Page Experience algorithm update is an important one, especially for your search engine rankings, the ultimate page experience should be about serving your visitors better, not just search engines.
Uptime
This may seem like a given, but if your website faces downtime, especially on a frequent basis, you're going to lose the trust of visitors and more traffic than just during those down periods. Make sure you have a
website uptime monitoring tool
that helps alert you quickly if you should face site uptime issues. More than that, make sure you choose a reliable hosting service that is easy to get in touch with when and if anything goes wrong.
Accessibility
Making your website accessible
is about making sure anyone, regardless of ability, can access, understand, and interact with your content. The more accessible your website is, the better page experience will be for any visitor, regardless of ability. And while difficult to 'master', it's essential to start and maintain efforts on improving your in line with the Web Content Accessibility Guidelines (WCAG). Complying with the latest version of the
WCAG also helps search engines understand your site
making it a great foundation for search engine optimization (SEO) as well.
Quality Assurance
Great page experiences also require great content. Broken links, misspellings or content at a reading level not commensurate with your visitor audience can negatively impact the website experience. You want to make sure you're keeping on top of your website
content quality assurance
to decrease bounce rates and increase conversion as well. making it a great foundation for search engine optimization (SEO) as well.
…And more!
You know your visitors and potential visitors best. Ultimately it's up to you to create content that matters and provides value. Tackling the 'technical stuff' like Core Web Vitals as well as the big picture things like accessibility and quality assurance are what will give your content the visibility it deserves.
Measuring and maintaining optimal page performance
Optimizing your visitors' page experience needs to be accurate and ultimately aligned with industrial standards like Core Web Vitals. Many of Google's platforms make measuring Core Web Vitals easy on a page by page basis. These free scans are a great place to start and help with one-off page reviews.
There are also tools, like Monsido, that offer a more consolidated and aggregated view of performance across your site to help you be more effective as you prioritize optimization efforts.
Monsido Performance
is a great tool for bigger websites with multiple website contributors and content that is frequently added and/or updated. To see what Monsido can do to help you on your page experience optimization efforts, reach out to our
team to get a quick demo
.