In 1996, Bill Gates wrote an article called "Content is King." He outlines some interesting ideas, like that content is where much of the real money will be made on the internet, that the definition of content is very wide, and that no company is too small to participate.

Nearly two decades later, a lot has changed on the web (that is obviously an understatement!). However, content is still king. Marketers know they need to optimize their content if they want to succeed with their IM endeavors.

Despite how much attention content optimization gets, so many marketers are going about it in a completely uninformed and ineffective matter. Content optimization is more than following some simple formula of "Put Keyword X here and add some pretty pictures." Here is what you really need to know to effectively optimize your content.
How Will Content Will Help You Achieve Your Goal?
Before you even start keyword research or writing an article, consider how content will help you meet your goal (you have defined your goals, right?). Most websites create content with the generic goal of getting more search traffic. But traffic is meaningless unless it meets your ultimate goal.

For example, I once saw a website for a plumbing company in California which had a blog post about preventing frozen pipes. The post was well written and the topic is highly searched, so they could have gotten a lot of organic traffic from it. But frozen pipes is not something which people in California have to deal with (winter temperatures are about 50 degrees F!). Any traffic they get is probably from cold climates like Wisconsin and not likely to become real-life customers.

While tons of organic search traffic is always nice, you don't have to formulate all content with search in mind. Blog posts are a great way to establish yourself as an expert in your industry. If you are really badass, then the info you have to share probably won't be highly searched (because users don't know about it yet!).

Here are examples of how content can be optimized to meet your goal:
Content Goal: Get More Leads Increase organic search traffic by creating content potential customers would find relevant.
Example: You have a car dealership. You write blog posts about how to repair broken cars. People searching for "car repair" are probably going to be looking for a new car soon. You catch them even before they start the buying phase.
Content Goal: Increase Conversions Write detailed blog posts which prove your expertise or the value of your product.
Example: You run a legal firm specializing in divorce law. You write detailed blog posts on topics like "how to file for divorce" and "tricks to win child custody cases." Leads will trust you more and be more likely to hire your legal firm.
Goal: Increase Brand Awareness This can be done with numerous methods, such as writing guest posts on popular blogs, increasing search traffic for relevant terms, or running social media campaigns.
Example: You have a real estate agency. You create witty, fun content like "The Most Ridiculous Home For-Sale Ads" or goofy posts about "Haunted Houses in Your City." The posts get spread on social media, increasing brand awareness.
Content Optimization for Increase Rankings
Again, content optimization isn't just about making it SEO friendly! Always remember your ultimate goal and don't just aim for sheer traffic. But, when your goal does require increased traffic, then remember these content optimization tricks for increasing rankings.
1) Research Keywords which Convert:
When doing keyword research, don't just focus on the keywords which are most highly-searched. Think whether those keywords have potential to convert. If you run a graphic design agency, you don't want to target terms like "free logos" or "free web templates." You want to rank for terms like "professional design services."
2) Put Keywords in URL, Title Tag, and Headings:
The old-school rules of getting your keywords in the URL, Title, and Heading Tags still apply. Read more about
Title Tags and H1 Tags
here.
3) Using Keywords in Content:
In the past, SEOs recommended tactics like "put keywords in the first sentence of the text" and "aim for a 2-3% keyword density." There may still be some sense to this advice, but this is a pretty terrible way to approach content creation. You should always write for users and not for search engines!

If you are writing good content which users will find relevant, then your keywords should be there anyway. Our advice is to create content without thinking about the search engines at all. Then reread the content a day or two later (with a fresh perspective) and tweak the wording a bit to get keywords in.
Don't forget to optimize your visual content too. Put keywords in your image titles and ALT text (but don't stuff them in!). This is one of the basic on-page optimization factors which can do wonders for your SEO.
Content Optimization for Social Media
Content optimization isn't just about SEO anymore. Though the stats vary drastically depending on what report you read, it is clear that social media can't be ignored as a traffic source. Anywhere from 2% to 48% of traffic comes from social.(
1
,
2
) SEO expert
Rand Fishkin says
that just Facebook is probably driving 15-30% of the traffic that Google is driving.
No matter how you look at it, it is pretty clear that you better be optimizing content for social media and not just search!
How do you optimize content for social media? Here are some starting points:
In the past, content creators would choose the most keyword-friendly title for their content. Think how many titles there are like "How to wash windows" or "Health benefits of garlic." Users are getting really tired of these bland titles. Good luck getting clicks with them from social media! You might not even get clicks on them in the SERPs either. Take a look at these search results. Which do you think that users would find most appealing and want to click on?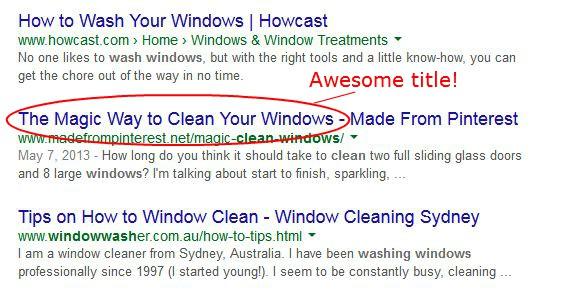 The stats are pretty compelling: visual content is more than 40x likely to get shared and gets 94% more total views This doesn't mean you should just download some stock photos and throw them at the top of your blog posts or articles. When optimizing visual content, remember:
Not too big! If your images are too large, it can slow down page speed, which will piss off users and search engines alike.
Be vary of cropping: Facebook, G+, and Twitter each have different image sizes. If your images aren't the right size, they will crop them. A good standard for all social media sites to use is 1024x512 pixels.
Avoid generic stock photos: Users are tired of those generic stock photos which are all over the web. Take some time to search out more interesting photos.
Other Important Content Optimization Factors
Page Speed: Users aren't patient. One study found that even a 2-second delay can cause abandonment rates of 87%. The Monsido webmaster tool has a feature which lets you see your website response time.
Mobile Friendly: As of 2014, stats showed that 60% of traffic comes from mobile, and the numbers are only going to increase as mobile gains popularity. Google even recently updated their search algorithm so websites which aren't mobile friendly won't rank for mobile searches.  Your content can be fantastic but it won't matter if it isn't mobile friendly!
Over-Optimization: Don't try to stuff keywords in there. If you are writing good content, the keywords will already be there. Plus, don't underestimate Google's ability to understand synonyms and the general theme of your content.
Duplicate Content: Duplicate content can come about in many ways, like when you have multiple URLs for the same product page or secure HTTPS pages.