Accessibility Laws in Singapore
Get an overview of accessibility policies in Singapore and what steps to take to ensure compliance.
What is Singapore's Enabling Masterplan 2030?
Singapore's 'Enabling Masterplans' are national roadmaps for the government and the community to follow in order to better work together and support persons with disabilities.
Intended to guide efforts to build a more caring and accessible Singapore, the
Enabling Masterplan 2030 (EMP2030)
sets out the vision of Singapore as a fully inclusive society in 2030.
This vision includes persons with disabilities being recognised as, and empowered to be, integral and contributing members of society, both online and off.
Some Key Website Recommendations and Goals
The report comprises 29 recommendations along three strategic themes spanning 14 focal areas, which cover the life stages and various needs of persons with disabilities and their caregivers.
The reports three strategic themes are as follows:
Strategic theme 1: Strengthen support for lifelong learning in a fast-changing economy.
Strategic theme 2: Enable persons with disabilities to live independently.
Strategic theme 3: Create physical and social environments that are inclusive to persons with disabilities.
If true progress is to be made in any of the above three areas, digital accessibility will need to be considered at every stage due to the crucial role that websites and other digital services increasingly play in people's day-to-day lives.
With regards specifically to digital accessibility, the EMP2030 sets the goal of ensuring that all high-traffic government websites are fully accessible by 2030, up from the current 61%.
Its key recommendations for websites include that Alt text be added to all images to allow people with blindness or low vision to understand the information they convey, and that captions, subtitles or sign language interpretation be added to all video content.
A greater focus on website readability levels is also encouraged in order to benefit those with cognitive or learning disabilities. Specific readability recommendations include promoting the use of shorter sentences and bullet points that are easier for many people to digest and understand.
Ensuring that websites are keyboard navigable is another major focus, as is facilitating the use of electronic pens and screen readers for those with motor disabilities.
The report also sets out the aim of increasing the number of disability inclusive employers and supporting the development of alternative employment models, including the creation of micro jobs for individuals with disabilities.
These recommendations will be instrumental in shaping the online disability landscape in Singapore until 2030.
Other Accessibility Milestones in Singapore
In 2021, the Government launched the
Digital for Life
national movement. One of the initiatives under this movement is a Digital for Life Fund, which supports community-led projects and activities that promote digital inclusion, literacy, and wellness.
In recent times Singapore has also stepped up its efforts to promote Assistive Technology (AT) as an enabler for education, employment and independent living. This includes recently enhancing the
Assistive Technology Fund (ATF)
, which subsidizes up to 90% of AT devices.
Singapore's Digital Service Standards (DSS)
In Singapore, the
Digital Service Standards (DSS)
are a set of policies, standards and guidelines that help government agencies implement digital services that meet the Digital Government Blueprint's (DGB) goal of delivering digital services that are easy, seamless, and relevant for citizens and businesses.
At the core of the DSS is the ongoing attempt to identify user needs in order to better design and deliver unified and consistent digital services to citizens and businesses.
Singapore Government Design System (SGDS)
The
Singapore Government Design System (SGDS)
aims to empower agencies to create fast, accessible, and mobile-friendly digital services with a common set of UI components, patterns and templates. It consists of the two following main parts:
Components: A collection of open-source, front-end components that you can reuse or customize to build websites quickly while not compromising on specific needs. All components have been checked to ensure they adhere to accessibility standards.
Guides: A collection of frameworks, best practices, and guidelines. Guides are organized into categories for Developers, Designers, and Writers.
Who must comply with Singapore's Digital Service Standards?
All Government agencies must adhere to the DSS. This fulfills a core need of Singapore's Digital Government Journey – to design and deliver unified and consistent government digital services to citizens and businesses based on their users needs.
Who must comply with Singapore's Enabling Masterplan 2030?
While the Enabling Masterplans are the closest thing that Singapore has to a legislative framework that applies to the private sector, in their current form they are merely a series of recommendations, and not instructions that carry the weight of the law behind them.
What standards are used in Singapore?
The
Web Content Accessibility Guidelines (WCAG)
, which are widely recognized as an international digital accessibility standard, form the basis of Singapore's accessibility policies. Generally speaking, content that meets Level AA guidelines is considered reasonably accessible for the majority of people with disabilities.
WCAG 2.1's four principles of accessibility are as follows: perceivable, operable, understandable, and robust.
Perceivable - The information and user interface components of websites and mobile applications must be presented in a way that enables users to perceive them clearly.
Operable - The functionality and navigation of the web and mobile user interface components must be usable.
Understandable - The information and operation of the web and mobile user interface must be easily understood by people of differing abilities.
Robust - The content of the website must have the ability to be interpreted reliably across a range of assistive technologies, and have the ability to adapt to new user agents.
The design principles of the DSS include Intuitive Design and Usability, Accessibility and Inclusivity, and Relevance and Consistency. The DSS are developed based on an iterative development approach through a cross-disciplinary team (e.g. policy specialists, user experience experts etc); and benchmarked against international standards to maintain their quality and relevancy.
How to Comply with Singapore's Enabling Masterplan
Get teams trained on digital accessibility and why it is important.
Build content with accessibility in mind from the start.
Regularly scan your site and prioritize the most impactful fixes.
Manually audit the website on a regular basis to find the rest.
Include an accessibility statement on your website (with contact information for users to flag any issues they find).
Benefits for Businesses and Customers
The Enabling Masterplan 2030 clearly signals Singapore's commitment to building a more fair and just society, both online and offline. It constitutes a major step in the ongoing journey to establish a digital community that allows people to live independently and participate fully.

From a pure business perspective, the more accessible websites in Singapore become, the wider the potential market they will be reaching.

In short, the enabling masterplan 2030 is a win-win all around, with both businesses and consumers set to benefit from its recommendations and goals.
How Monsido can help your website comply with Singapore's accessibility policies.
Monsido's
Web Accessibility Module
audits your entire site for digital accessibility against the WCAG 2.1 success criteria (and any subsequent updates to the guidelines).
Each audit scans your site for machine-testable issues, provides detailed reports so you can review any errors that may arise, gives you targeted recommendations on how to address these errors based on the guidelines, and shows you your compliance based on WCAG 2.1 levels A, AA, and AAA. You can track and prove your accessibility compliance progress via reports in the History Center. We also offer accessibility training to customers and support, all-inclusive, to ensure that you are well-versed in both automated and manual remediation methods, and are able to efficiently and consistently improve your website's accessibility.
Monsido also offers free tools to complement your web accessibility efforts, including a color contrast checker for web teams to test out compliant color combinations for their web design, and an accessibility statement generator, which allows you to quickly and easily produce a public statement declaring your commitment to web accessibility.
The information in this article is made available by Monsido ApS and/or its subsidiaries and affiliates and is for informational purposes only so as to provide its customers with a general understanding of current legal developments. It should not be construed as providing specific legal advice, and you acknowledge that no attorney/client relationship exists between you or any third party and Monsido ApS and/or its subsidiaries and affiliates. This article should not be used as a substitute for competent legal advice from a licensed lawyer in your jurisdiction.
Want More Information on Accessibility?
Get the datasheet to learn more about the product and how you can benefit from it.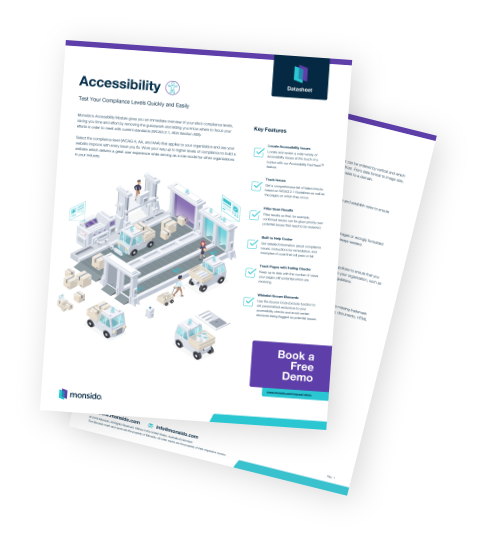 Make Your Website Better With Monsido
Find out how Monsido's tools can make your website optimization process efficient and effective.